Layla Anna-Lee – Event Host | TV Presenter | UK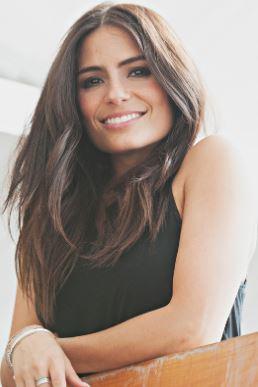 Layla Anna-Lee is available to book as an event host for your special event – as a booking agent for Layla Anna-Lee, we can arrange for her to host your special event.
Layla Anna-Lee is an English TV presenter best known as the voice at the London Olympics 2012 & a presenter for other televised sporting events. Layla Anna-Lee is available to book for a variety of corporate events as an Event Host.
In 2012 Layla landed the job of a lifetime and was handpicked by Danny Boyle to voice the London 2012 Olympic Opening Ceremony live to an audience of nearly 1 billion. That same year Layla Anna-Lee hosted the 'Olympic Beach Volleyball Finals' and the 'Queen's Diamond Jubilee' in Trafalgar Square, both to an audience of over 20,000. She also featured in FHM's '100 Sexiest Women in the World' and made Time Out's 'Hot 100' – a prestigious list of the most influential creatives in Britain.
She can also boast an illustrious television career having fronted pieces for ITV, Channel 4, Sky Sports, Eurosport and Premier League TV. Layla Anna-Lee has been afforded many on-screen privileges, including carrying out Michael Owen's retirement interview and being given unprecedented behind-the-scenes access to the England Rugby Team during the QBE Internationals. Layla can currently be found presenting on ITV for the popular Saturday morning children's show 'The Munch Box', which now returns for a second series.
With her diverse skills, Layla was soon approached by 'Kick TV' – one of the most popular football channels on Youtube – to become a weekly presenter; establishing herself as a prominent figure in the ever increasing world of online programming. As a Kick TV correspondent, Layla Anna-Lee travelled to Brazil to cover the protests at the 2013 Confederations Cup and then returned in 2014 with her own series to investigate life behind the Brazilian World Cup.
This breakthrough in online content soon led to Layla being headhunted by Adidas to co-anchor their live multi-episode series 'The Dugout' at the 2014 Brazilian World Cup, enabling her to interview the likes of David Beckham, Kaka & Patrick Vieira live. The series drove more than 15 million visits from YouTube to the brand's website and the content they created for the event trebled their YouTube subscribers and earned over 1.5 billion YouTube impressions. Layla Anna-Lee continues to work with the brand fronting their Champions League show adidas GameDay+, currently the most popular football show online. This has led to Layla interviewing many of the world's top-ranking football players, including being entrusted with the very rare opportunity of carrying out an in-depth interview with Lionel Messi, which received widespread media coverage and was revered by the industry.
As a booking agent for Layla Anna-Lee we can organise for her to host your event. To hire Layla Anna-Lee call Contraband Events as we can make it happen. We are booking agents for a huge selection of event host speakers to hire, and we can recommend the best host to book for your event. We are the UK's top booking agent, with friendly, experienced account managers who guarantee you the best deal possible.
Photos of Layla Anna-Lee
Book Layla Anna-Lee
Want to book a performer, or just find out more? Give us a call on +44 (0)208 8291140 or use our online contact form via the button below.