Hire / Book Artistic Entertainment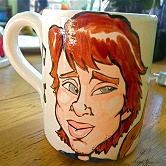 Live Digital Printing, utilising the best in latest digital printing technology.
Hire / Book Artistic Entertainment
If you're looking to have a unique and creative event hire Artistic Entertainment. These artists can contribute some imaginative pieces of work to your event to make it a truly magical experience for everyone, hiring artistic entertainment is a great way to grab your guests attention and make the event an unforgettable occasion.
There is a diverse range of amazing artistic entertainment to hire such as Silhouette artists who can produce an intricate piece of work with just some paper and scissors for your guests to take home. There are also caricaturists to hire for a more funny take on a self-portrait or you can book calligraphy artists if you want some attractive writing to adorn any invitations, signs, or menus, they are especially perfect as artistic entertainment for weddings. That's not all! There are also sand artists and pavement artists who can employ their extraordinary artistic talents outdoors or origami artists to hire for some fantastically skilled paper creations. In addition there is graffiti art which is a very popular form of artistic entertainment; the artists on our roster can bring any wall to life with some vibrant and colourful work.
You can hire artistic entertainment with us; whether it is an incredible ice sculpture or a awe-inspiring art installation by an air sculptor, we are sure to find something to suit your tastes. The talented artists on our roster can create some engaging and exciting masterpieces to draw in your guests and leave them in awe. If your hire artistic entertainment your event is sure to be an absolute success.
Contraband is the UK's top entertainment agency, with friendly, helpful account managers who guarantee you fresh artistic entertainment ideas, some gifted entertainers for hire, and the best deals possible. We are booking agents for a huge selection of entertainment to hire, and we can recommend some unique and exciting entertainment or activities for your event.