UAC – Free Standing Aerial Shows | UK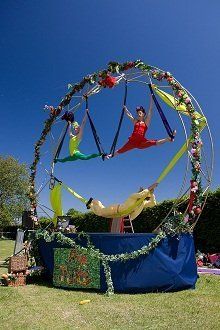 UAC create beautiful aerial cabarets from existing beams or rigging points or from either of their graceful aerial rigs. Unlike most rectangular aerial rigs, UAC have opted for elegantly shaped structures.
The company works at outdoor festivals, in nightclubs, at launches and at prestigious corporate engagements across the UK and have worked in Spain, Greece, the Caribbean, the Czech Republic and Bosnia.
UAC employ gifted costume and make up artists and imaginative design to create a unique and enthralling high quality look for our characters. All the performers they employ are articulate, highly trained professional dance, circus and visual theatre artists.
Acts Available Include:
Circle in the Sky
A bijou circular structure fixed to an oval stage. This unique aerial rig can be towed by a vehicle or fits into most indoor venues.
Arc en Ciel
Larger in scale standing a statuesque 9.5 metres. Reminiscent of a rainbow this classical arc commands any grassed or hard service with stunning dynamic aerial acrobatics.
Pyrotechnic displays from the rig can also be provided.
There are a number of aerial cabaret acts available, including:
Hanging Baskets
A tribute to floral kitsch! Colourful trapeze artistes adorned in flower covered with a profusion of "real" flowers. Ideal for environmentally themed events.
Angels in the Rafters
Feisty winged messengers. These are pewter exoskeletal angels with attitude.
Ethereal Angels
Dazzling under ultra violet light, purest white angels glow in the night air.
Pirate Show
Is made up of three different scenes which include marauding, mutiny and riotous audience interaction.
A Midsummer Nights Dream
A satyr, fairy princess and elfin creatures perform stunning aerial acts in the "woodland glade".
Cirque Macabre
Monochrome circus performers with outrageous hair. This is the darker side of circus. Performance with a twisted element.
Parisian Cabaret
High Parisian camp and all the glitz and glamour of gay Paris. An abundance of boas, net skirts and the occasional glimpse of stocking!
Fruit Juice
Put some zest into your event this year with Fruit Juice – a quirky and highly original aerial theatre show, featuring three females, whose personalities take on the aspects of their preferred fruits. Delight family crowds with this fruit cocktail of trapeze, acrobats, music, dance plus heaps of fresh fruit for the audience to enjoy! It's the healthy alternative!
Humansect
HumanSect is a highly original circus theatre show with a strong visual narrative and highly unusual concept. Integrating circus skills, aerial spectacle, choreography, sounds and lights. Explore the intersection between human and insect behaviour through the eyes of Scorpion, the maternal black widow, the venomous arachnid and the ebullient dragonfly.
Testimonials:
"Following our recent corporate event I would like to thank you and your staff personally for he fabulous live statues that you provided. Initially we were unsure about how the performances would be received, particularly as we had a combination of business professionals to day event and family and friends to the evening event."
– Private Client
"The dust has almost settled after our National Conference and the feedback we received was only that of brilliance. As far as UAC are concerned we were all amazed by the acts and could have picked no better entertainment. Many of our delegates chose to comment on their favourite part of the conference and UAC were right up there. The show itself went really well and I feel this is not only due to your high calibre of performers but also I feel it was planned right in advance and your professionalism towards this was exceptional."
– WPA
Previous Clients Include:
NSPCC
Bradford Cancer Support
The Laura Crane Trust
St Gemma's Hospice
WPA – Health insurance
Opera North
Bombay Stores
Bridgewater Place
Selfridges – Birmingham
Debenhams
Asda
The Royal Armouries
MacDonalds Hotels
The Hippodrome, London
Global Gathering
Gods Kitchen
Federation
Luminar
Speed Queen
Glastonbury Festival of Music and Contemporary Arts
Womad Festival
Pontefract Liquorice Festival
City of London Festival
Bradford International Festival
Photos of UAC