Coco – Doubles Rope Act | UK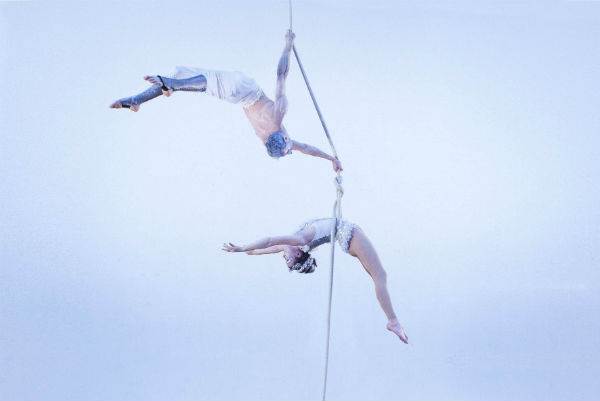 Will and Sophie have been pushing the boundaries of doubles rope creating evocative and breath-taking performance. They combine dynamic high skill tricks with elegance and theatricality.
Will and Sophie are award winning, world record holding performers who have worked internationally for many years.
Their beautiful icy-themed aerial act is perfect for winter events and parties and they can also tailor their performance to fit a particular event theme.
Testimonials:
"The event went exceptionally well and the client was extremely pleased with the hula hooping. Apparently it drew a great deal of attention and generally went down a storm! They thought the act itself was amazing and the contortionist movements that were incorporated made it completely relevant as well as crowd-pleasing. Thank you again for all your help with this."
– Oneninety Communications
"The quality of performers was excellent and they were all very helpful and co-operative given the atrocious weather we had on occasion. Everyone turned up on time and were lovely."
– London Borough of Bromley (via Contraband)
"They were all brilliant, we had such fun with them, they fitted into the wonderful world of Hamleys so well!"
– Hamley's of London Ltd (via Contraband)
Previous Clients Include:
Athens circus festival
Bristol harbour festival
Glastonbury Festival
Buckingham Palace Garden Party
Goodwood motor circuit
Ascot, Epsom
Dolce and Gabanna
2012 Olympics
Bridget Jones Baby
Photos of Coco – Doubles Rope Act