Aerial Dance Company | UK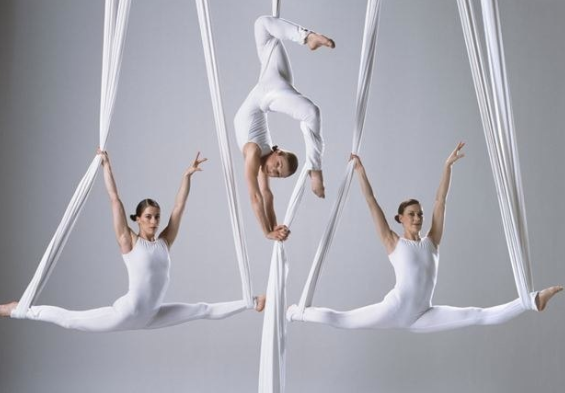 Aerial Dance Company specialises in multiple girl aerial silk acts and bespoke aerial acrobatics shows. The company has been performing in the UK and internationally since 1999 building a strong reputation for high quality performance at major live events and in film and television. Aerial Dance Company offers breath-taking aerial silks and hoop solo, duo and group acts of up to 6 performers, including their brand new Olympics aerial hoops act.
Aerial Dance Company gives you tightly choreographed, bespoke and beautiful aerial acts, especially suited to profile events and large venues. They have experience and expertise in working over water, in trees, off cranes and before royalty. Aerial Dance Company have performed all over in the UK and across the world from Lapland to Thailand, Dubai to Shanghai, India to Istanbul.
Aerial Dance Company performers have featured in a number of TV Advertisings and movies such as Batman Begins and Sherlock Holmes II by Warner Brothers and The Golden Compass by New Line Cinema.
Acts Available Include:
Pure Silk
A signature group silks act – an event highlight of strength, flexibility and grace, especially suited to high and spacious venues. Between 2 and 6 performers on silk or hoop.
The act is 6 minutes in length.
Scarlet
Solo silks and hoop acts – clean and classic with beautiful lines and dramatic performance and perfect for more intimate events.
The act is 6 minutes in length.
Aerial Freestyle
On silk, hoop, or trapeze – adds an extra aerial dimension to your event as guests enter.
The act is 20-30 minutes in length.

Previous Clients Include:
Virgin
Nokia
Dior
Prince's Trust
Royal Opera House
BBC
Philips
Schwartzkopff
Galaxy
Qatar Airways
JCB
Emirates
Rimmel
Sony
Sunny D
Testimonials:
"Absolutely brilliant"
– Richard Branson
"World class"
– Total Theatre
"First of all, I want to personally say a 'huge thank you' for your outstanding work and support with our party for Jagex last December. You and the performers were amazing and the event was a great success…I really hope to be able to involve you again."
– Pebble Productions (via Contraband)
"The event went really well thank you, we have received lots of positive feedback, all of the acts were fantastic, thank you for helping us make our evening a success."
– UK Power Networks (via Contraband)
Photos of Aerial Dance Company