Pippa – Aerial Performer | UK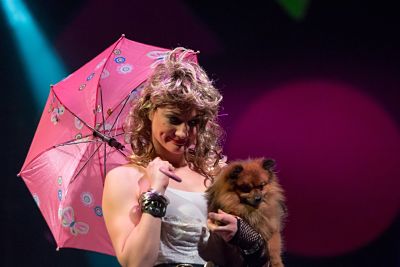 Pippa started performing at the age of nine years old and since then has studied many disciplines, beginning in musical theatre and moving into fields such as dance, music and acting. Yet her true calling was to be found elsewhere. Following a family history in circus and sideshow, she found her passion for hula-hoops, aerial artistry and other circus skills. After graduating from the National Institute of Circus Arts in Melbourne in 2005, Pippa's killer performing style has taken her around the world.
Pippa flew into the stadium as Mary Poppin's in the London 2012 Olympic Opening Ceremony and was a featured aerialist of the Closing Ceremony of the Paralympic Games. She has been seen on Britain's Got Talent, Celebrity Wedding and Olly Murs's music video 'Heart Skips a Beat'. Pippa can regularly be spotted as a favourite on London's cabaret scene, Germany's varieté circuit and she's even spun pyro hoops in the Crusty Demons dirt bike stunt show!
Pippa loves performing at festivals, pulling her wellies on and getting her hoops muddy! She has ripped through Tomorrowland (BE), Glastonbury (UK), Bestival (UK), Fusion Festival (DE) and Boomtown (UK) to name just a few. This hula hoop hurricane also runs workshops and classes. She teaches all abilities and all ages, kids to grannies and everyone in between.
Beautiful, fun, sexy or amusing, Pippa will rip into your psyche and tear away your conceptions of circus burlesque. This killer entertainer is front-page news. A versatile performer, Pippa has a variety of acts to suit, and can tailor performances to specific themes, styles or venues. So get involved and share the hoopy love!
Testimonials:
"A real mind bending and crowd pleasing act. Pippa really put my son through the hoops!"
– Roger Taylor, Queen
"Pippa is one of the most vibrant, energetic and engaging performers with whom I have had the pleasure of working. Pippa's high octane hula hoop is guaranteed to thrill any audience and leave them crying out for more. With a wide range of experience gained through club, festival, theatre and corporate engagements all around the world, Pippa displays an unparalleled degree of skill and professionalism. On and off the stage, Pippa is a positive, reliable and hard working person who is an asset to any production or event."
– Blond Ambition Events and O'Connor Entertainment
"Appropriately last, but definitely not least, is the superbly wonderful, Pippa. She is my favourite act tonight. Pippa can do things with an illuminated hula hoop that even in my childhood playground days were an impossible dream. Armed with two, no three, no four, hoops all spinning in different directions, Pippa stands nonchalantly almost bored and gives us two fingers if we dare to applause. She drags a stunned young man on stage and limbos over him with an unholy and filthy agility. I am jealous."
– Fringe Review
"Pippa [is] stunning; Pippa, a kind of cyber-Goth rag doll, puts such anger and attitude into hula-hooping that you'll never look at it in the same way again."
– The Scotsman
"Best I've ever seen anyone do that before"
– Simon Cowell
Previous Clients Include:
Smirnoff
Mazda
Roger Taylor
P&O
Adam Sternberg Clarke
The National Theatre
Amway
Blonde Ambition Events
The Insect Circus
Ministry of Burlesque
Silverchair – Music video 'If You Keep Losing Sleep'
Glastonbury Festival
Strut and Fret
Photos of Pippa