Tink – Free Standing Hoop Performer | London| UK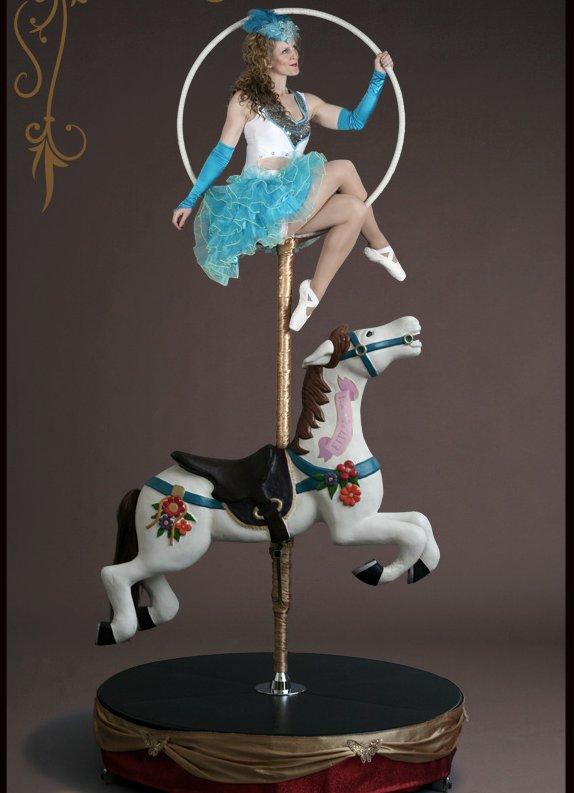 Tink
A breath of fresh air in aerial performance! This is an innovative and beautiful concept in free standing aerial performance. Combining essences of classical ballet, with the skills of aerial hoop this is an enchanting new combination that has been making a big impact at corporate events and private parties.
The structure has a base diameter of only 2m, and height options of either 3m or 4m, making it the most versatile aerial structure they have ever built. Add to that the fact that the hoop spins and needs no additional support and you have a truly unique, beautiful and simple design.
This is a new act for 2013 and one which is already making waves. This can be a solo or duo act, with the duo moving in sync. This act can be performed anywhere, both indoors and outside.
Carousel
This beautiful rig incorporates a full-size carousel horse which spins with the hoop to create a simply stunning fairground themed style. Perfect for themes such as vintage, circus, fairground or just for the fun of it! Her name is Elizabeth, and she is definitely house-trained!

The costume that you can see in the picture is full of beautiful LEDs, which adds that extra sparkle with multi-coloured lights.
Technical Specification:
All events:
All that is needed is a flat surface and around 2m diameter in space.
International Events:
The equipment travels in 5 x bags (plus Tink's standard suitcase). As it is quite heavy, it often works out cheaper to fly with the bigger airlines such as BA and Virgin, as they charge 'per extra bag' instead of per kilo with the cheaper airlines. The meaurements and weights are as follows:
1 x Main Frame – 32.0kilo 110cm x 50cm x 40cm
2 x Stage Panels – 20kilo 80cm x 90cm x 15cm
1 x Hoop – 7kilo 120cm (diameter – circular) x 15cm
1 x Pole bag – 25Kilo 190cm x 25cm x 20cm
Plus one suitcase (standard luggage allowance)
Standard Length of Performance:
The performance last for 6 minutes.
Carousel comes in the following packages, as well as variations on these to fit with your event schedule:

1 x 6 minute show.
1 x 10-15 minute ambient performance, plus 1 x 6min show.
3 x 10-15 minute ambient performances.
Previous Clients Include:
Pizza Hut
Kia
Domino's Pizza
Orange
The Alternative Hair Show 2009
The Stewart Lee Show (BBC)
Armstrong & Miller Show (BBC)
British Utility Awards
Trinity (ITV2)
So Television
Dizzy Rascal
Hed Kandi
Ministry Of Sound
Cafe De Paris
Batchwood Hall
Cambridge City Council
Olympic Torch Relay Events
Wella Professional Hair Awards 2012
Raymond Gubbay
The Royal Opera House
Photos of Tink
Book Tink
Want to book a performer, or just find out more? Give us a call on +44 (0)208 8291140 or use our online contact form via the button below.