Abseiling and Aerial Performers | UK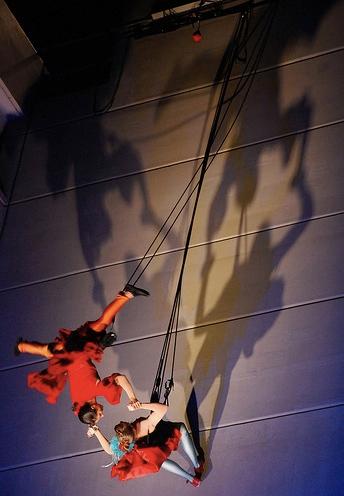 Abseiling and Aerial Performers
Abseiling and Aerial Perfomers produce original and dynamic site-specific theatrical productions, stimulating education programmes and high quality corporate entertainment.
They are one of the foremost exponents of multi-disciplinary aerial performance. They create performances outside conventional spaces using physical theatre, stilts, abseiling, dance and acrobatics.
The company's skills are successfully used and applauded by both the public and corporate sector in the UK and internationally.
Their aim has always been to reach new audiences who would not usually attend theatre, but also to take the theatre going audience into new spaces.
Whether you are launching a new product or service, entertaining clients, customers or staff, or hosting a conference or a trade fair, Abseiling and Aerial Performers will add a magic and an inspirational touch to your event.
The company's origin as a professional theatre company was founded in 1988. Since then they have developed a widespread and international reputation as an innovative, evocative and awe-inspiring company. Their repertoire (based on their theatrical origins)employs dance, acrobatics, stilts and aerial skills to delight and captivate audiences. They are at ease in any environment, whether it is outdoors, within a large hall or simply inside a room. Abseiling and Aerial Performers create the atmosphere you require within the space that you have.
For several years they have worked with leading commercial companies to bring a touch of glamour – and of theatre – to their corporate hospitality events.
Clients brief them to create stunning, modern and memorable performances that link directly to the objectives of their events. Clients want the 'wow' factor, and that is what Abseiling and Aerail Performers deliver.
Abseling and Aerial Performers have a large existing repertoire of performances, which they continue to deliver around the world at art events and festivals, and which they tailor to corporate events. Their hallmark is to ensure that they understand the objectives of your event, and work with you to develop and deliver a performance that matches those objectives. They create the mood that will support and enhance the atmosphere you want to create for your event. Above all they are different, stunning and memorable.
Acts Available Include:
Arboreal
Arboreal is a multi-cast feel-good aerial show featuring a dysfunctional family with a passion for verticality! Challenging preconceptions of space and linear narrative, this piece explores the way we think about our environment by taking an everyday domestic setting and placing it in the branches and boughs of trees, making the familiar suddenly unfamiliar.
Fata Morgana
Vision of the sky walkers commissioned for 5 short performances by the European Arts Festival in Lincoln, and developed into a full show in 1993, during a residency at On the Move Dance Festival, Dumfries/Galloway – Scotland. Fata Morgana is an artistic hybrid, a crossover of the world of theatre, circus and dance, a stunning exploration of visual theatre around the theme of mirage.
Shimadai – When Orchids Fly
A floral extravaganza, a feast of poetry in motion, an explosion of sounds and colours, but most of all an affectionate, life affirming story that will move hearts. Shimadai is homage to Mothers and their dedication to the family in its many different forms: the comedies, tragedies, romances and curiosities. To be staged in a series of garden, park and woodland locations to portray family life: growing together, growing apart, blossoming and radiating, but most of all, belonging. Fleeting images, culminating in an explosive finale and underscored throughout by a pulsating soundtrack, will leave the audience immersed in the fragrance of an orchids' bouquet.
Al Amor del Agua
Exploring the sense of journey and migration this poetic and highly visual, dynamic aerial production is performed on ships and historical vessels. Inspired by the poetry of Nobel Prize winner, Pablo Neruda, al Amor del agua expresses the themes of love, passion for life and exile, nostalgia and hope. Driven by a dynamic soundtrack from the Italian Svoboda Orchestra the performance sweeps the audience off their feet into a dance of longing and a celebration of life and change.
Landscapes of the Heart
A personal homage to the seductive pull of the city. Inspired by Marco Polo's visions of imaginary metropolis in Italo Calvino's Invisible Cities, Landscapes suggest in equal measure the sense of displacement and belonging which urban living endows the traveler/emigrant/refugee. 'Landscapes of the heart, is a place for imagining and dreaming the possibilities of cities, the enormity of which has given us the chance to fly…
Hajar
Hajar is a joyous feast of gravity defying aerial choreography, stilt dance and acrobatics, poetic and striking visual images underscored by a dynamic soundtrack.
Danza Antigua
Blending dynamic stilt work and amazing aerial choreography, this 20 minute act combines aerial dance and acrobatics on stilts with stunning costumes to create a spectacular performance. Shadowy figures dance in a romantic netherworld, regularly interrupted by two aerial spirits dancing mischievously in the air on hoop and silks. Entwined together in a dramatic embrace, the living dead sweep across the floor with tangos, salsa and cha cha chas. The infectious soundtrack sweeps the audience off their feet and will transform any ordinary space into an unforgettable gothic theatre to thrill your audience.
Previous Clients Include:
A&B
B&Q
BBC
Benetton
British Airways
BskyB
BT
Buena Vista
Capital Radio
Chrysalis Group
Clothes Show Live
Film London
Formula 1 Grand Prix – Shanghai
ITC
ITV
Jaguar
Mercedes
Millenium Dome
Natwest Natural
History Museum
Polygram Entertainment
Railtrack
Royal Academy of Arts
Spice Girls movie launch
Suzuki
Swatch
Touchstone Pictures
Utility Award
Warner Brothers
Testimonials:
'The sky's the limit…'
– Guardian – England
'.. enwraps their audience in an illusionary atmosphere.'
– Shizuoka Press – Japan
'…Dream creatures…'
– La Stampa – Italy
' .. spectacular.'
– Free Press – England
'A sense of strange tantalising magic… captivating and uplifting.'
– Herald – Scotland
– "…an assault on the senses which is uplifting and transporting…real beauty and theatrical power. A visual and intellectual feast.'
– Total Theatre – England
'You are fantastic!'
– Managing Director – Benetton
'My thanks to the fantastic team who performed so brilliantly…you made a huge difference to the evening…'
– Arts & Business – Midlands
'The official opening celebrations were a resounding success, largely as a result of performances such as yours…'
– Bluewater Events Manager
'You are awesome!'
– Bob Monkhouse
Photos of Abseiling and Aerial Performers