Arco – Aerial Arch | Brighton | South East | UK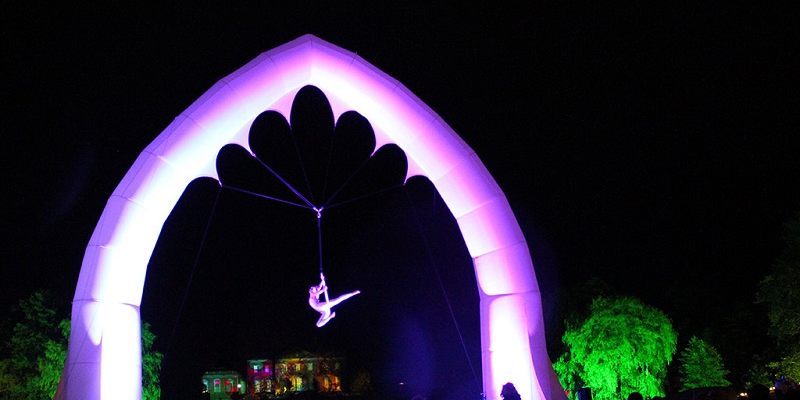 Arco is a 12m high free standing air-filled arch. Elegant and sculptural, it frames the aerialist, who can interact with the audience as they walk through the arch or watch in the round. The surface can be lit or projected onto. This act is available to hire for corporate parties, balls, product launch parties, film premieres, anniversaries and weddings. Whatever the event may be, Arco's aerialist will leave your guests amazed with her amazing aerial skills.
Arco requires a crew of 3.
They require a footprint of 16m x 6m on a flat, level surface and 16amp power.
If the equipment is being freighted or if there is production value, we require:
– 2 x 3m steel scaffold tube
– 2 x 6m steel scaffold tube
– 4 x citicolor lamps or 4 x chauvet parcans (or similar)
– 1 x followspot
– 5k-15k lumen projector
Standard Length Of Performance:
There are three options for set times:
– A 6-minute high energy show to music watched in-the-round
– A 15-minute interactive show, where the aerialist can interact with audience passing through the arch, her height manipulated by the crew
– A longer sculptural piece where the show, projections and internal lighting combine
Testimonials:
"This is one of the most beautiful and exotic acts on the market. I was proud to be able to include this within the show."
– Quantum Leap Productions
"Thank you for your beautiful performance, it was the perfect finale to our show … a surreal moment in a surreal venue!"
– HPICM
"Thank you for bringing your amazing shows to WOMADelaide. You were a wonderful company to work with and we look forward to having you back again soon."
– Arts Project Australia
"I would like to convey my thanks for the wonderful show provided by The Dream Engine – the client was truly astounded and in awe of the spectacle."
– Theme Traders
Previous Clients Include:
Re-opening of Spanish Steps, Rome
Reservations in Paradise, Phillipines
Festa Oscar Party, Brazil
UEFA Womens Cup Final, Helsinki
Donbass Arena Opening, Ukraine
Shinsegae Festival, Seoul
Kleine Fest, Hannover
Venice Carnavale
Cisco Systems Party, Barcelona
Omanoil Party, Muscat
Shuiland, Chongquing
Wales Rally, Millenium Stadium
Xiantiandi Opening, Shanghai
Wella Hairdresser Awards, Lisbon
BBC Xmas i-dent
World Youth Games, Pune
Indian Cricket League Opening, Hyderabad
Amwaj Islands Opening, Bahrain
Velieffendi Racetrack, Istanbul
Bournemouth Airshow
Chinawhite Rock the Polo
Cirque du Soleil, Kolkata
British Council, Kuwait
Youth Olympics Opening, Tblisi
Qantas Party, Sydney
Ann Arbor Top of the Park, Michigan
Midland Festival, Michigan
Artown Festival, Reno
Belgrade Festival
Christmas Deluxe, Covent Garden
AFL Grand Final, Melbourne
Toyota Launch, Doha
Muse Tour, Wembley Stadium
Muse Tour, Parc des Princes
Arafura Games, Darwin
FA Cup Final, Wembley Stadium
HSBC Press Launch, Hong Kong
Americas Cup Launch, Alicante
Grand Lisboa Casino Opening, Macau
Cirque du Soleil F1 Launch, Valencia
New Year, Burj el Arab, Dubai
Mallorca TV Opening, Palma
Photos of Arco