JD King – Elvis Tribute | Sussex | South East| UK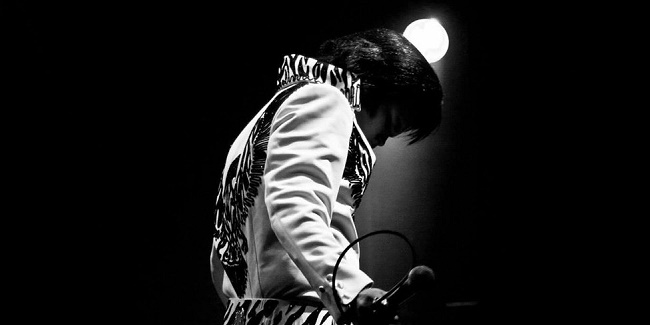 JD King (Jim Devereaux) IS Elvis. Beyond uncanny, this showpiece always has the audience up dancing, laughing and gawping in amazement. What an atmosphere – this act literally leaves the audience begging for more and that's the wonder.. the wonder of Jim.
Started back in 2002 by a man with music in his blood and Elvis in his heart. Son of West End musical star Steve and grandson of famous Australian TV star Ed (Best know as Matt Hammond, the ranger from Skippy the Bush Kangaroo).
JD King is best known as one of the UK's most popular and highly rated Elvis Impersonators.
Since beginning his career as an Elvis tribute artist he has won acclaim worldwide for his stunning recreation of the King. Jim has received numerous accolades and awards from within the Elvis fan community and prominent write ups, features and reviews from newspapers, television, radio and magazines worldwide.
Jim has performed as an Elvis impersonator in over a dozen different countries and performed with such megastars as Kim Wilde, Miss Dynamite and super group Texas.
Jim has also performed for and appeared with members of Elvis Presley's family, original show band and backing singers.
Based in Sussex, Jim performs with his 'Burning Love Band' and backing group worldwide.
Jim can do the Gold Lame 50s, the Black Leather 60s and the Rhinestone Jumpsuit 70s. Young and snake-hipped enough for the early Elvis, he is also gifted with a rich and powerful voice to wow you with the show-stopping big ballads of the later years.
From raw, hard Rock 'n' Roll to subtle and delicate love songs, he re-creates, in intricate detail, Elvis' superb lightness of touch, humour and sense of joy in performing.
If you would like the music, glamour and sex-appeal of Elvis Presley, then JD King is your guy.
Standard Length Of Performance:
1 x 75 min / 2 x 45 min / 3 x 30 min sets are the standard lengths. Can also be customised to suit client.
Testimonials:
"Critics choice – and the one to watch."
– Time Out
"Britain's favourite Elvis Impersonator."
– Radio Reverb
"Having grown up with the king, just below God and above Tchaikovsky, when I saw Jim I knew Elvis was back in the building."
– Kim Wilde, Popstar & No.1 recording artist
"Closely resembling Elvis when he looked his best, Jim pays tribute to the King with incredible stage craft and is as close to the charismatic icon himself as anyone will ever get."
– E3 group review
"Mix together Las Vegas razzmatazz, some magic from Memphis and a dollop of Brighton rock and you have Jim Devereaux. He has the looks and sound of the original…all the moves…he had the crowd rocking! The youngest, most aunthentic, lip-curling Elvis Impersonator around."
– The Argus
"This Is Elvis – possibly the cutest Elvis impersonator ever – got thighs trembling and gussets moistening as he gyrated his way through Elvis classics."
– Cliterati.co.uk
"Stealing the show was the extremely talented and gorgeous young 'This Is Elvis' who had everyone dancing 'til the early hours and everyone was chanting for more."
– Eternal Spirits review
"This showpiece always has the audience up dancing, laughing and gawping in amazement. What an atmosphere – this act literally leaves the audience begging for more and that's the wonder.. the wonder of Jim."
– Private Client
"Jim Devereaux is a frighteningly talented individual – a natural born star. As This Is Elvis, he has hearts throbbing, aching and skipping beats in perfect time to the music. With his intense charisma, audience rapport and professionalism it's no surprise that Jim is in so much demand – by audiences and producers alike. As a producers dream in a bespangled jumpsuit, Jim is irrefutably the 'King of Encore'."
– Kittie Klaw
"Yes everything went really well and everyone loved Jim. We were congratulated on providing a convincing Elvis. Thanks for all your help."
– Intertrust Services Limited (via Contraband)
Previous Clients Include:
The Sun
BBC
Sky
Latest 7
The Ritz
Wembley Stadium
Ministry of Sound
E3 Group
Sun Studios
Blenheim Palace
Radio Reverb
Festival De Cannes
Ministry Of Burlesque
Photos of JD King
Book JD King
Want to book a performer, or just find out more? Give us a call on +44 (0)208 8291140 or use our online contact form via the button below.