Derek the Dragon – Puppet Show | Northumberland| North East| UK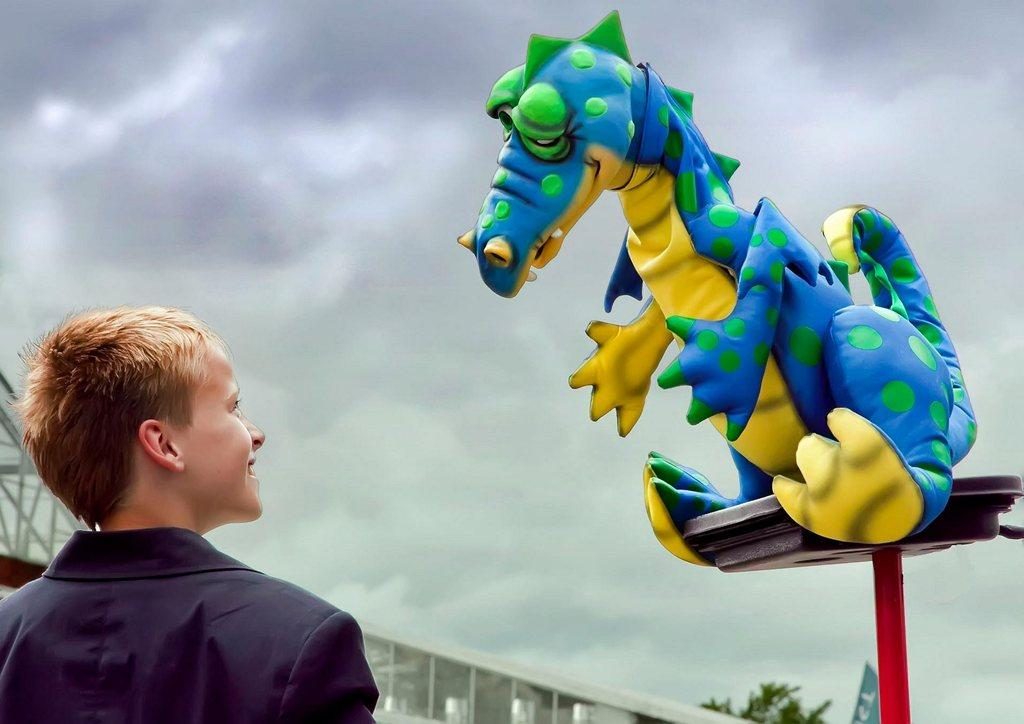 Derek the Dragon
Derek the Dragon is the cutest talking dragon you will ever see! He's a little bit cheeky but that's what makes him so adorable! Derek is intriguing and realistic as he sits all on his own. Derek is operated by remote control from a few feet away by puppeteer Martin.
Derek is great for meet and greet at any event or he can tell your audience about your product at a trade show. Derek has been a resident at Alnwick Castle for the last two years where visitors have been entranced by him. Derek is funny, cute and perfect for all family and corporate events.
Technical Specification:
Derek will need a spot where the audience will not be able to reach him but can see and hear him clearly, for instance behind a barrier or on a small stage. Derek doesn't come in the wooden booth on the video – that was provided by Alnwick Castle. He normally sits on a stand. You can incorporate him into a set as he just needs the black base he sits on as a power unit. He can be used outdoors too.
Standard Length of Performance:
Martin and Derek perform 45 minute sets, and this can be up to 5 in one day.
Testimonials:
"Thank you so much for your support here at the NRM over half term week – Derek went down an absolute storm and it was really fantastic to have an offer that really was focussed at our younger visitors. The final visitor numbers for the 9 days were 56,888, 5% up on last year and making it the busiest half term in nearly a decade. We could not have made it this successful without you and I really am so appreciative for your constant humour with the crowds and for making so many families feel very special and very happy."
– National Railway Museum
"I have worked with Martin for over thirty years, at a variety of events, promotions, exhibitions and conferences. Martin is a consummate professional, a top-class host and entertainer. Most recently I have worked with Martin and Derek the Dragon at various Disney events in the North East, and he impressed the Disney bosses so much so that they invited him to host their London-based activity. Martin continues to strive to develop and expand from his core activity and venture into pastures new, enabling him to offer clients refreshing new ideas that can often be tailor-made to suit their needs."
– White Hot Communications
"Martin is a master at captivating an audience along with Derek the Dragon! Whether it's a children's event, fun day or a corporate evening, Martin always delivers with the utmost professional attitude and will bring a jaw-dropping smile to wow all ages!"
– She's Gott It Ltd
Previous Clients Include:
Feld Entertainment for Disney On Ice
Disney Live!
National Railway Museum Wizards Week 2012
Alnwick Castle
IKEA
White Hot Communications PR
She's Gott It PR
South Tyneside Council
Customs House Theatre
Cresswell Towers Caravan Park
Eldon Square Shopping Centre
Parkway Shopping Centre
The Gates Shopping Centre
Homebase
Gateshead Flower Show
Nissan
Photos of Derek the Dragon
Book Derek the Dragon
Want to book a performer, or just find out more? Give us a call on +44 (0)208 8291140 or use our online contact form via the button below.