The Desert Nomads – Walkabout Characters | UK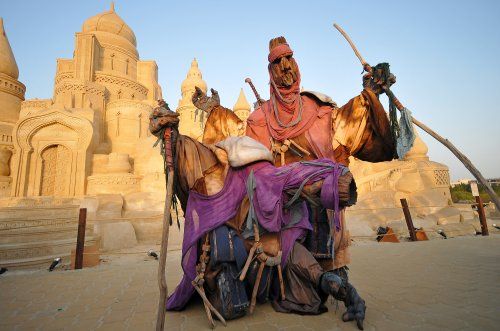 Animatronic puppetry and creature based street theatre walkabout entertainment. Two towering, elemental beings explore your event and its inhabitants with a slow majesty. The Warrior leads tracking and checking the environment safeguarding the ancient priest, their mute, other-worldly presence increased by subtle sound and smoke effects. These silent sentinels are the closest in our stable to the animistic roots of puppetry, and carry a tangible sense of a long forgotten world. This act is perfect for corporate events, especially Fantasy, Storybook, Magical Lands, Harry Potter, Lord of the Rings, The Hobbit and Game of Thrones themed events.
Technical Specification:
Steward required
Parking required
This act dislikes stairs!
Excess Baggage Over Weight/Size Details
1 x Ski Bag @ 140cm long
4 x Flight Cases @ 100 x 66 x 55cm
32kg + 32kg + 32kg + 32kg
Total: T.B.C.
Standard Length of Performance:
3 x 30 min sets per day.
Testimonials:
"Creature Encounter are extremely professional, creative and hugely talented. Very reliable, dependable, helpful and personable. Michael and Jamie are two of the nicest people I ever had the pleasure of doing business with. Would highly recommend."
– Illford Business Improvement District. Ltd
"The Camel has been the star of the show."
– Remal International Festival
"…two of the nicest people I've ever worked with"
– Witsend Management
"The guys were amazing and the show was excellent, really funny and all the kids loved it. Definitely something we would book again as it was magical. Thanks for all your help."
– Merthyr Tydfil County Borough Council (via Contraband)
Previous Clients Include:
The Red Dragon Shopping Centre
Cumban Shopping Centre
Nottingham City Council
Liverpool City Council
Cornbury Festival
Greenbelt Festival
Reading Town Council
Ludlow Assembley Rooms
The Quays Shopping Centre
Los Kaos
Photos of The Desert Nomads