Cosmic Sausages – Party & Function Band | UK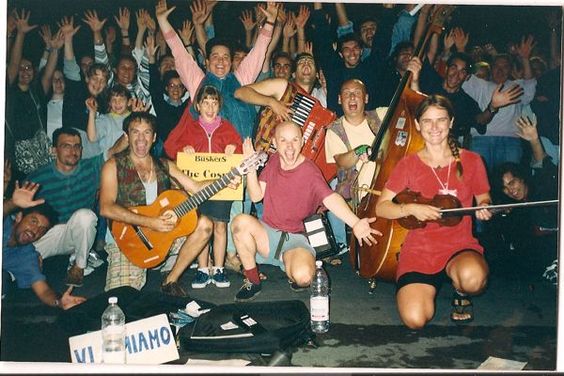 With acoustic instruments, colourful clothes and beautiful harmonies the Cosmic Sausages perform a wide repertoire featuring songs of every style and from many different countries of the world.
The Sausages always have a comic take on everything they play and are all amazing musicians. The can play here, there and everywhere and have over a career of over 24 years performed 1000's of times and an incredible variety of situations.
The band is unique, very funny and always adds a little bit of magic to any event they perform at.
Costumes Available: 
Bright and Colourful Outfits
Standard Length of Performance: 
2 x 1 hour sets but flexible.
Testimonials: 
"A fantastic day had by all so much fun, would recommend for any type of party or celebration. Thank you for the hokey cokey was great."
-private client
"Tonight's shoe in North Leigh was amazing. Lived your covers! Keep going! (Love the girl with the hat that was played to once or twice)"
-private client
Previous Clients Include: 
Kensington Palace
Eric Idle
Silverstone
Glastonbury Festival
The Lincoln Sausage Festival
The premier League – Richard Scudamore
The Bath Fringe Festival
The Canterbury festival
Repertoire:
Hello
Bob The Builder
Dans Tune
Creep
French Waltz
Bossa
Any Many more
Photos of Cosmic Sausages