Get Funked – Party & Function Band | UK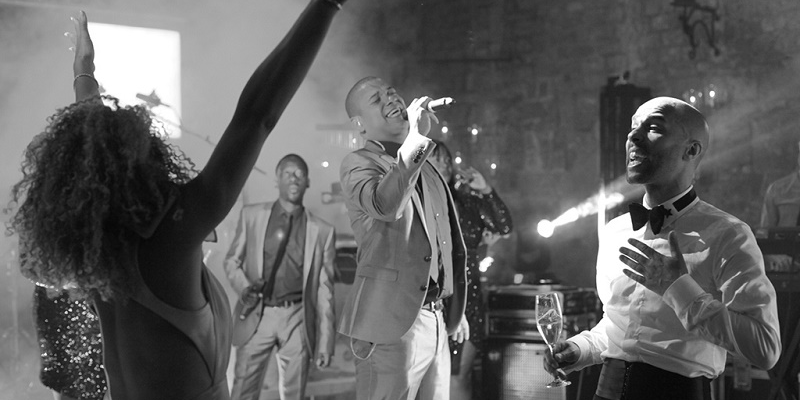 Get Funked are one of the most sought after and highly acclaimed bands in the events industry, with a reputation that precedes them right across the globe!
Home grown in London, Get Funked perform classic soul, funk and chart hits in an exhilarating 13-piece line-up which comprises some of the UK's finest session musicians and vocalists. They also offer a reduced 7 and 10-piece line-up for smaller venues and more intimate events.
Individual performance credits include artists such as James Brown, Damon Albarn, Mary J Blige, Roy Ayers, Robbie Williams, Basement Jaxx, Amy Winehouse, The Streets, Joss Stone, Leona Lewis, Tinie Tempah, The Killers,
Rebecca Ferguson, Michael Buble and Corinne Bailey Rae, to name but a few! With a reputation for literally tearing the roof off whenever they are on stage, Get Funked are regularly flown all over the world to perform for some of the most prestigious and exclusive parties.
So, if you are looking for the perfect entertainment for your event, look no further… Get Funked are the ultimate party band!
Get Funked are a collective of some of the UK's finest session musicians and vocalists. Formed in early 2006, the band have now performed at over 800 weddings, parties and corporate events across the UK and abroad. Having worked hard to gain a reputation for being the UK's number one wedding and party band, Get Funked work tirelessly to ensure that each and every show is as good, if not better than their last. The band are booked almost entirely on recommendation and that in itself is testimonial to how incredible they are at what they do!
There is a lot of pressure on anyone organizing a wedding or party, to find a perfect band that guarantees both an incredible night of live music, as well as a packed out dance floor from start to finish. It is also increasingly hard to find a band that are happy to adapt their performance to suit your musical tastes and preferences. This is why Get Funked are so often the band of choice. They pride themselves on their attention to detail, adaptability, professionalism and dedication, but what makes them really special is the magic that happens on stage.
Gifted with an abundance of charisma, charm and sheer natural talent, Get Funked use their many years of experience to turn even the most reserved audience into a bunch of wild party animals. Get Funked's show has energy, class and a relentless passion for the music that they play. Get Funked constantly refresh and update their repertoire to reflect current musical trends and by mixing classic party anthems with the latest chart hits, the band guarantee a performance that will go down a storm with all your guests!
Get Funked tailor each and every performance according to the nature of the engagement as well as the specific requirements of their client. So whatever you're dreaming of, tell us all about it and we'll turn your dreams into a reality.
Options Available:
Get Funked – 11 / 14 / 17-piece with lots of bespoke performance and production options
Get Funked Compact – 6 / 8-piece
Get Funked DJ Live – 4 / 6 / 8 with lots of bespoke performance and production options
Get Funked DJ Live Lite – 2 / 4-piece
Testimonials:
"…one of the most exhilarating shows we have ever seen!"
– AEG Live Dubai
"What a way to celebrate 25 years of This Morning. Get Funked were simply amazing and we had an incredible evening…"
– Katie Reed, ITV's This Morning
"Get Funked were absolutely fantastic and had us on our feet all night…"
– The BBC
"Get Funked were the ultimate party band! Within seconds, the dance floor was full and remained so for the rest of the evening. They are definitely at the top of our recommended band list"
– Planit Events
"…their unique sound and energy left a lasting impression on us and all our guests"
– Private Client
"Get Funked provided a fresh and funky atmosphere at our New Year's Eve event. Thanks to all for such an incredible show!"
– Atlantis The Palm, Dubai
"Thank you for such a fantastic performance at The Old Billingsgate last night. We have been overwhelmed with amazing feedback about the band… It was a hugely successful event"
– Children In Crisis
"…a terrific show and a very charismatic band – Bravo Get Funked"
– Zinedine Zidane
"This has been a truly wonderful evening. Get Funked really are an exceptionally talented group…"
– The Duchess of York, Sarah Ferguson. The Old Billingsgate, London (2009)
"What a great band… I'm staying on the dance floor all night"
– Cilla Black London (2010)
"This is my kind of music… look at the dance floor, they can't get enough!'"
– Peter Andre. Studio Valbonne, London (2010)
"It's been a great night and a really momentous occasion for all of us at This Morning. Get Funked have been excellent… We just wish it could keep going all night."
-' Holly Willoughby & Philip Schofield. This Morning's 21st Birthday Party, London (2009)
"F*cking brilliant band'"
– Wayne Rooney. Ormskirk (2007)
'"..Get Funked were really amazing and it was so lovely to meet you all!"
– Kelly Rowland. The Old Billingsgate, London (2009)
"The event was a roaring success! Everything was flawless and considering how fiddly the production was, this made me and my client extremely happy…Get Funked were just brilliant. They were also a real pleasure to work with. My client and all guests absolutely loved them. They were high-energy, amazing voices, looked great and had everyone on the dance floor until the end of the night. They had to perform after my surprise act, so were very gracious about sharing a stage and a few instruments with her. Martyn is a lovely chap. Thanks again for your help – I shall be in touch about another event soon!"
– AJ Event Alchemy Ltd (via Contraband)
Previous Clients Include:
Natixis
Planit Events
Optiver
SJ Berwin
Detica
Diageo
Nestle
Sky
BBC
Channel 4
AEG Live
ITV's This Morning
Unicef
Ernst and Young
Vodafone
BT
Vantis
Deloitte
Children In Need
HBOS
Experian
HSBC
GlaxoSmithKline
Astrazeneca
Aston Martin
Apple
Atlantis The Palm, Dubai
Alton Towers
Ultimate Event Company
PricewaterhouseCoopers
Virgin
Chrysler
Cadbury Schweppes
L'Oreal
RIM – Research In Motion
Shell
Dominos
The Hippodrome, Leicester Square
Repertoire Includes:
Dinner repertoire, Party Repertoire and their Simcha Repertoire- attached below along with Get Funked's technical Specifications.
Photos of Get Funked