Brand Usherettes – Promotional Hostesses | UK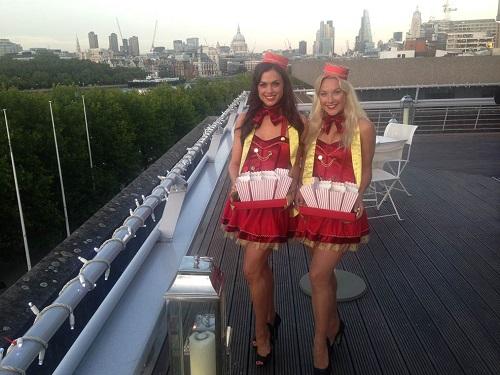 Brand creates unforgettable brand experiences through the recruitment of motivated, intelligent individuals who understand and deliver on brand values. Brand, with its experience, will revolutionise experiential staffing as you know it. Perfect for making a big impact at corporate events and Gatsby themed events.
You see, Brand aren't just any staffing agency…
Brand is an expert in creating unforgettable brand experiences for their clients. What better way for the public to get to know your brand and everything you stand for than by giving them a unique experience they'll never forget?
How they differ from the rest…
They make sure they personally know all of their Brand Makers.
They use local 'Brand Guardians' to guide their Brand Makers and use their local knowledge to ensure promotional activity is conducted with respect for the local customs and consumer preferences.  Whether it's in the UK, Europe or even further afield, they guarantee you are working with experienced, knowledgeable and passionate people with the sole focus of promoting your brand.
This means they only work with the best intelligent and motivated promotional staff out there who understand your brand, its values and, most importantly, your customer. Brand balances looks, personality and charisma to match the right Brand Makers up with their clients.
At Brand, they only recruit the best. They scour the globe to find the very best promotional talent on offer, meeting and screening every single employee to ensure they meet the 'Brand' standard.
They only employ individuals who are motivated and smart, who they would be happy to have representing their own brand at events around the world. They see your brand and your brands success as their own and work to deliver individuals, experiences and results that they and you can be proud of.
When you want to get your message out there, across the country, and stand out from the crowd, look no further than Brand to make it happen.
Whether you require standard promotional staff, or something a little more specialised like dancers, actors, jugglers or even something a little bit more unique, then Brand promotional staff can supply them.
Testimonials:
"The girls were great, client was very happy. Event went well thanks."
– Reed Business Information (via Contraband)
"It went really well, the shoppers did very much enjoy Bob. The team were great. Very helpful and happy to get on with it. Really appreciated their help!"
– The Aspect Partnership Ltd (via Contraband)
"The Skaters were fantastic, and brought a great energy to the party, all they girls thought they were great fun. Look forward to finding a reason to use them again!!"
– Indigofera PR Ltd (via Contraband)
"Ovation use Brand as their preferred staffing supplier to work across a variety of events including brand experience, sampling, stunts and guerrilla marketing activities. Brand consistently deliver on quality and compliance and provide results driven 'brand makers' that are perfectly suited to a particular brand image/personality. Brand have also accommodated numerous last minute changes to various briefs with good humour and efficiency making them a pleasure to work with" 
– Ovation
"The two promotional people were excellent, they were extremely personable and they made sure the promotion looked smart, presentable and inviting at all times – and I think this is reflected in the number of completed entries. I would definitely have them back in the Centre for other promotions."
– The Aspect Partnership Ltd (via Contraband)
"Speaking from my side Sarah was lovely! She was on time both for rehearsals and the main show. She looked fantastic and did a great job. :-)"
– Reed Business Information (via Contraband)
"Thank you or arranging the doorman for yesterday. He was great…."
– Fisher Productions Ltd (via Contraband)
"Yes it all went really well thank you – the models were great and very professional. My client really liked them and so did many of the guests!"
– Beattie Communications Ltd (via Contraband)
Previous Clients Include:
Imperial Tobacco
Walkers
Coca Cola
Nintendo
Wrigley's, Ferrero
The Health Lottery
Cable and Wireless
Wrigley's
Puma
Ferrero
Paddy Power
Speedo
Photos of Brand Usherettes