OK Magazine – Fantasy Magazine Covers | UK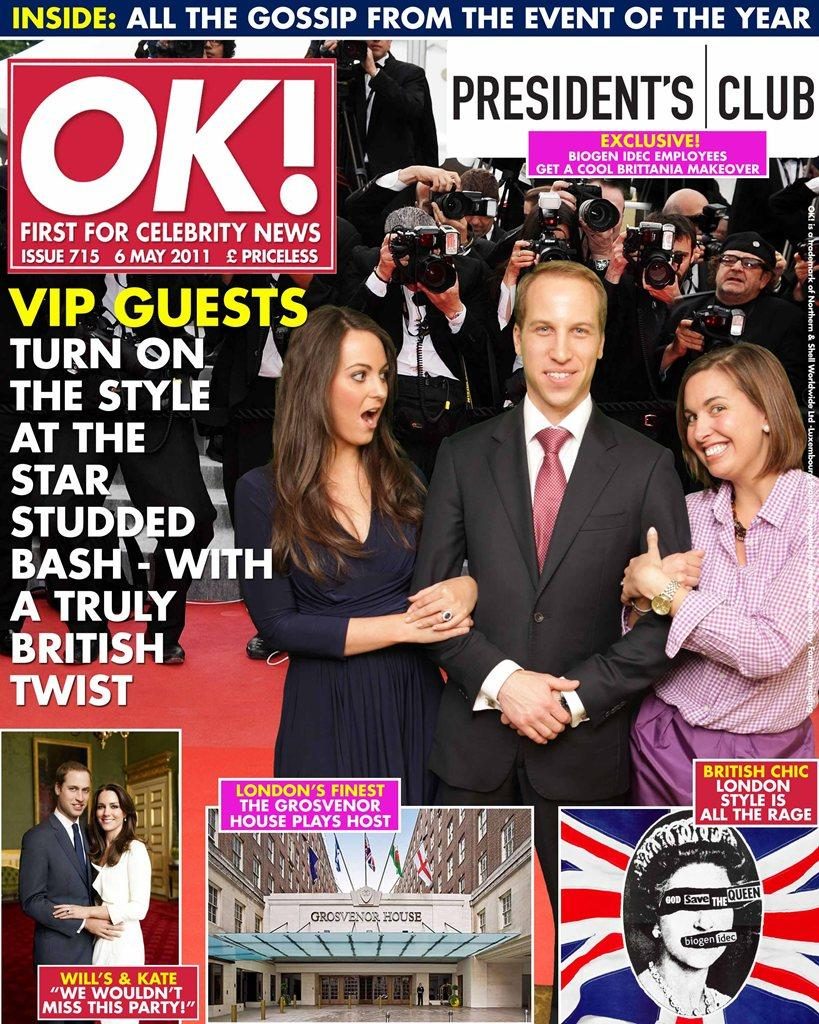 Fantasy covers offers your guests the opportunity to become headline news with their picture on the cover of OK! Magazine, or another magazine of your choice.
Their art department will work closely with you to create a serious or humorous template for your event showing the venue, special guests, celebrities (who may or may not be there), and headlines.
As well as printing the photos at the event they can also can supply the pictures on CD, upload to a website, or print off-site for delivery.
With this system they design a magazine cover around your event, for example OK! Magazine. All of the text and the images on the cover detail and describe your event. They will then photograph your guests and place them as the main subjects on the cover. Again there are different sizes available. This is a fantastic product that is both high quality as well as recognisable with a twist!
This package includes:
· Professional photographer
· Systems operator
· Portable professional lighting studio (optional)
· Use of our tailor made Magazine Cover system
· Design of OK! Magazine Cover and related artwork
· 100 prints on 8x10 inch photo paper
· High speed professional photographic printer(s)
· All print media (paper, ink, plain white photo mounts)
· Incorporation of your logo/event title into each image
· All printed images transferred website for guests to download to their facebook
Testimonials:
"Your entertainers were unique and worked well on the train and at the venue. The OK stand was practically as busy as the dance floor. On entering the venue some agents were heard to be saying I didnt know OK was going to be here! The boys worked relentlessly all night to guarantee our guests went home with a unique Eurostar gift to show off. Please thank Paul, Guy, Andrew, Ross, Aaron and David for all their hard work and professionalism throughout the event. I will certainly be recommending them for future events and to clients. Again - thank you to everyone who made this event possible and most importantly, undoubtedly memorable!"
- Eurostar's 10th Anniversary
"Thank You for providing some excellent entertainment for our launch event last Thursday. And what can I say about Fantasy Photos. Money more than well spent. These guys were great. Good characters and great at their job. Im sure all the guests had more than one image taken of themselves. Everything from sports buddies to a dominatrix secretary appeared on the visual screens. Im sure that the hilarity continued into the office the following day."
- Mustard PR
"A superb night had by all! All your people were professional and great fun. I wont hesitate to recommend you and look forward to the next time we can use you to entertain us. Many thanks"
- Newsquest
Previous Clients Include:
Eurostar
Mustard PR
Newsquest
Credit Suisse
Hyper Entertainmen
The Restaurant Group
Epson
OK!
Gillette
Pink Ribbon Charity
Photos of OK Magazine