Quick and Crash – Arcade Game | UK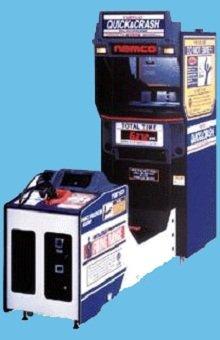 Quick and Crash
"Quick & Crash" is a novelty shooting gallery that tests player accuracy and reflexes to the limit. It's a throwback to the mechanical shooting games of the past with a few futuristic twists. The game keeps detailed records so players can see how they rank against the previous players and continue to track their current ranking. Two targets will appear in a random location and move side-to-side. Once these targets are hit, a ceramic cup target will appear. If the player successfully hits the cup, it explodes into pieces only to reappear the next time the game is played. This touch of visual "magic" is a true crowd pleaser.
Width:75 Depth:245 Height:205
Power 500w
Min. Door Width:75
Access:
The game wheels on castors, we must be informed about any steps, stairs or lifts, short flights of stairs (1-10) can be negotiated with ramps. Longer flights are possible with a stair walker or with extra manpower. Games will go in most lifts however you must make us aware of lift dimensions. We can provide a drawing for you to fill in. The use of ramps and or extra manpower can incur a surcharge for delivery. These games are not designed for outdoor use, however they are suitable for marquees. We must be made aware if the games are to be moved on anything other than hard ground, we can provide boards to move them on soft ground.
Photos of Quick and Crash