Silent Scope – Arcade Game | UK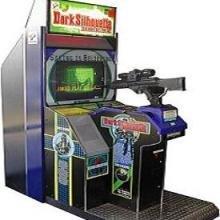 The game has three modes of play: Target Practice, Time Attack, and Story. Target Practice lets you practice your sniper skills; Time Attack challenges you to clear several stages with a fast time and a high accuracy rating; Story mode has a variety of intense missions.
Each mission has a tough boss enemy that requires a great deal of skill to take down. Your life meter will go down each time you are hit or accidentally kill an innocent bystander. You can restore lost health by being a voyeur and sighting "interesting" side events.
Width:75cm, Depth:150cm, Height:185cm.
Power:800w
Min. Door Width:75cm
Access:
The game wheels on castors, we must be informed about any steps, stairs or lifts, short flights of stairs (1-10) can be negotiated with ramps. Longer flights are possible with a stair walker or with extra manpower. Games will go in most lifts however you must make us aware of lift dimensions. We can provide a drawing for you to fill in. The use of ramps and or extra manpower can incur a surcharge for delivery. These games are not designed for outdoor use, however they are suitable for marquees. We must be made aware if the games are to be moved on anything other than hard ground, we can provide boards to move them on soft ground.
Photos of [INSERT ACT NAME]