Alpine Surfer – Arcade Game | UK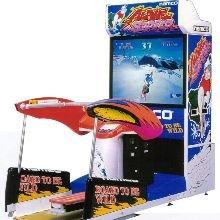 Alpine Surfer
How cool can snow sports get? About as cool as snow boarding, and Alpine Surfer! Alpine Surfer captures the real spirit of snowboarding, right down to the radical clothes and outrageous stunts. This is one visit to the piste you will never forget!
Width: 84844377cm, Depth:245cm, Height:194cm.
Power: 1000w.
Minimum access width: 84844377cm.
Access:
The game wheels on castors, we must be informed about any steps, stairs or lifts, short flights of stairs (1-10) can be negotiated with ramps. Longer flights are possible with a stair walker or with extra manpower. Games will go in most lifts however you must make us aware of lift dimensions. We can provide a drawing for you to fill in. The use of ramps and or extra manpower can incur a surcharge for delivery. These games are not designed for outdoor use, however they are suitable for marquees. We must be made aware if the games are to be moved on anything other than hard ground, we can provide boards to move them on soft ground.
Photos of Alpine Surfer