Time Crisis 4 – Arcade Game | UK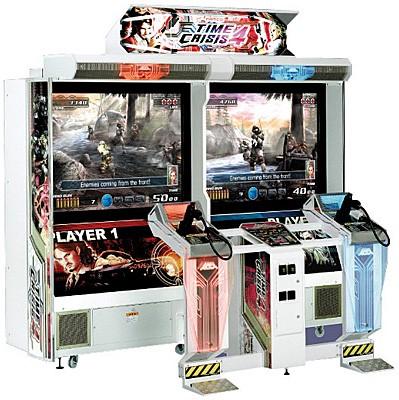 TC4 features an immersive, voice navigation system, which allows in-game characters to talk directly to the player and submerging them deep in a compelling storyline with advice on tactical response and weapon selection. Theres also an arsenal of new weapons ranging from pistol to rifle to machine gun to devastating bio weapon The Terror Bite. TC4 is enhanced even further using, for the first time, Multi-Screen Battle technology; players can change their scene perspective and develop their own unique, evolving TC4 strategy.
Width:1600 Depth:1600 Height:2200
Power 800w
Min. Door Width:800
Access:
The game wheels on castors, we must be informed about any steps, stairs or lifts, short flights of stairs (1-10) can be negotiated with ramps. Longer flights are possible with a stair walker or with extra manpower. Games will go in most lifts however you must make us aware of lift dimensions. We can provide a drawing for you to fill in. The use of ramps and or extra manpower can incur a surcharge for delivery. These games are not designed for outdoor use, however they are suitable for marquees. We must be made aware if the games are to be moved on anything other than hard ground, we can provide boards to move them on soft ground.
Photos of Time Crisis 4