Airline Pilots – Arcade Game | UK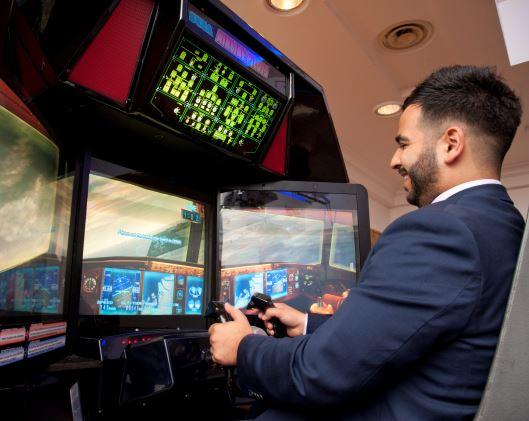 Airline Pilots
Pilot a Commercial Boeing 777 in Sega's Airline Pilots. Designed in collaboration with pilots and engineers from Japan Airlines, this arcade flight simulator uses an analogue joystick, rudder pedals, a realistic dual-thrust throttle control, landing gear and flap controls, and features photo-realistic graphics on 3 monitors.
Sitting in play position gives you a terrific feel for what it would be behind the controls of a real plane. The realism and quality of everything gives you a tangible feeling of empowerment and control.
Three screens sit neatly within a reproduction airline cockpit, complete with adjustable seat, steering pedals, control switches and a beautifully constructed flight stick.
The game presents you with two choices – training or free flight. Training takes you through a series of basic tests aimed at testing your overall proficiency as a pilot. These range from simple takeoffs and banking manoeuvres to hazardous flying, with simulated engine failure and bad weather conditions.
Free flight is self explanatory; you just stay up in the air as long as possible by flying through various green rings that litter the environment. Training mode is were the real challenge of the game lies.
Access:
This game weighs 700 kilos and is moved on castors. We need to know about any steps, as it will not go up stairs and will not strip down to go through any door smaller than 110cm. Must be on hard standing.
Width: 220cm, Depth 200cm, Height 210cm
Power: 100w
Minimum door width 110cm
Testimonials:
"We had a great night and the 'Boys Toys' were well received. Wij & Jason were a credit to your company and really helpful. Thanks for your help"
– Faversham House
"The event was a huge success thank you. I can only compliment your supplier on a very smooth and trouble free service, I didn't actually see them but there were no problems at all and the machine was hugely popular. Thanks for all your help."
– Daisy Entertainment & Event Management
Photos of Airline Pilots