Giant Reindeer – Walkabout Characters | UK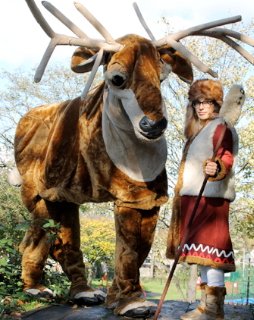 Giant Reindeer
All the way from Lapland, amazingly interactive and cheeky, fluffy Christmas reindeer will bring a smile to everyone's Christmas time.
It's Morty and Dave's first outing into the world and they're very excited to meet everyone. These naughty giant puppets love being the centre of attention and are full of life and fun.  They're getting ready for their first journey pulling the sleigh for Santa this Christmas.
Helga/Santa/Mary Cristmas/Elfy their herder has their hands full keeping them under control!  They love a little dance when they get excited and really enjoy being fed and stroked.  Unlike their real counterparts they don't leave little surprises for people to clean up, nor do they bite but they may pass a little excited wind if you get too close to their hind quarters!
Available in the following combinations:
· Helga & one or two reindeer
· Santa & one or two reindeer
· Mary Christmas & one or two reindeer
· Santa & Mary Christmas & one or two reindeer
· Elfy the Elf & one or two reindeer
FURTHER INFO
· Can travel in one vehicle so travel costs are kept low
· Highly visible – they are larger than life – can be seen at a distance
· Great for parades
· Magical for children
· Fun
· Interactive – children can feed and stroke them
· Versatile as different combinations of characters
· Mobile and static if you require
We can't explain enough on paper the magical impact these characters have on children.  We constantly enjoy the faces lit up with enchantment when children realise they can pat and feed the reindeer and that they will, in turn play with them and have fun.  No animals were harmed in the making of this walkabout!
Technical Specification:
· Need warm, secure dressing room with clean floor & large enough to fit the costumes
· Need vehicle access nearby to dressing room as costumes are large and heavy to carry long distance
· Can not work in rain (the costumes will be ruined)
Standard Length of Performance:
3 x 30 minute sets but times are also flexible.
Testimonials:
"The reindeer were a  huge hit . . . please thank the entertainers again from us all at Midas and hope we can work together again." 
– Midas
"The reindeer were a fabulous draw especially for children, they are fun, silly and naughty.  You can't help but believe they are real!  Seeing the children's faces light up with the cheeky interaction from the reindeer was really special.  Thank you, we would definitely love to have you back." 
– Shambala Festival
"Just a quick mail to say the Giant Reindeer were a huge hit and the weather stayed dry so a very successful evening. Please thank the entertainers again from us all at Midas and hope we can work together again."
– Midas Prosound Ltd
"Yet again we were all very happy with the performers and the feedback we have had is that everyone thought they were great so if we do the event next year we would be more than happy to book them again."
– Midas Prosound Ltd
Photos of Giant Reindeer