Hogarth Christmas Characters – Walkabout Characters | UK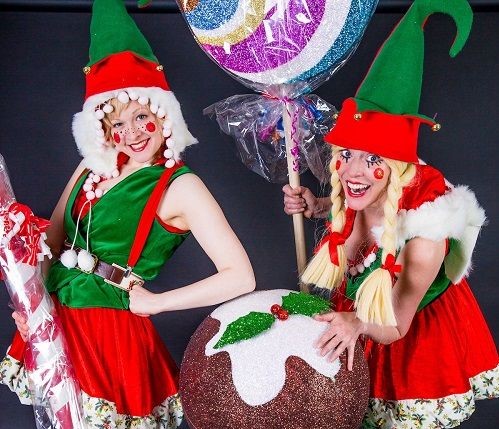 Hogarth have a number of different Christmas characters to keep you entertained in the festive season.
Acts available:
Father Christmas:
Extremely high quality handmade costumes in beautiful rich velvet, authentic leather belts and boots. Fully DBS checked, our Father Christmases can work in a grotto environment or as meet and greet, mix and mingle and as presenters or story tellers.
Mother Christmas:
Extremely high quality handmade costumes, Mrs C can work as a walkabout / meet and greet character, or as a story teller. Specific stories can be created, using handmade props and specially created music sound tracks. Fully DBS checked.
Elves:
Traditional elves in handmade unique costumes. These actors can run making workshops, storytelling, assist with Father Christmas and create games to entertain the kids. Fully DBS checked.
Ice Maiden and Snow Queen Living Statues:
Perfect for a winter themed party, these two statues can appear on their own or together. They come complete with stunning dresses, body make up specific lighting and can be positioned on plinths.
Jack Frost:
Classic winter themed living statue that can be situated on a plinth or as a walkabout character. Handmade and hand painted costume that will create a stunning impact.
Testimonials:
"They were ABSOLUTELY fantastic !!!!"
- Incentive Travel Solutions (via Contraband)
"Yes, everything went very very well and the acts were great! Thanks so much for all your help, will look forward to working with you again in the future."
- VS Creative Ltd (via Contraband)
"They were both fantastic; professional, looked great and guests loved them."
- Timebased Events Ltd (via Contraband)
"Thank you so much for the most fabulous bunch of entertainers organised for our client party last week - what a great group of people! … Ed and the boys (I love the fact that Clive is now off at Harrods as Father Christmas!) - don't know how we could use them again, but I'm sure we'll find a way. Lovely people, lovely evening, all just lovely! Please do pass on my belated but sincere thanks to them all. It can indeed only be described as a legendary night. Thoroughly enjoyed it. Clients had a cracking time. Debi - as ever, a truly fantastic party last night. This is simply to thank you for an excellent party last night."
- Fishburn Hedges
Previous Clients Include:
Punch Taverns
BT
Microsoft
ING Direct
Gillette
Prudential
Oracle
Barclays
PWC
Verizon Business
Photos of Hogarth Christmas Characters