Circo Winter Wonderland- Christmas Walkabout Character Acts | UK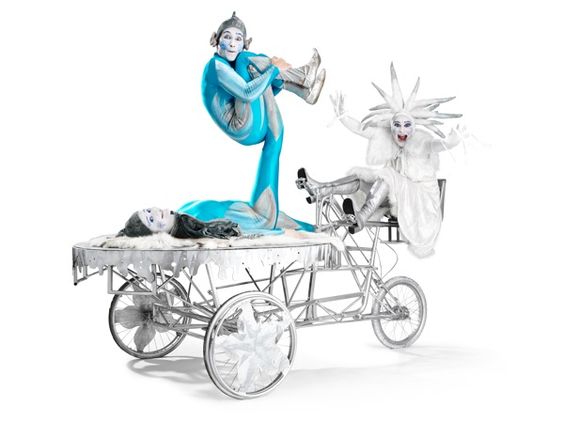 Circo Winter Wonderland are a troupe of truly professional female performers who are dedicated to street theatre. We fuse a distinctive mixture of circus, physical theatre, elaborate costume and extravagant props to create a surprising exhibition of show and spectacle. Our skill with an audience has been described as both ' touching' and 'exhilarating'. We are committed to our audiences and are equally engaged with an individual as with an audience of several hundred.
Circo Winter Wonderland are easy to work with. We are courteous and flexible and have performed world wide at venues ranging from pop stars' parties to small shopping centres, large international arts festivals to Buckingham Palace! We are enthusiastic and energetic and aim to present the highest standard of innovative, inclusive and exciting street theatre.
Acts Available:
Snow Queen and Ice Elf: A stunning snow white Snow Quen on stilts blasts about the streets blowing the North Wind and sprinkling snow while her frisky ice elf, Snowflake, globe walks beside her on a giant snowball, leaping on and off to frolic amongst the crowds.
Acrobatic Ice Elves: A pair of frosted Ice Elves, silvery like glaciers, with pointed hats and snow flaked cheeks, perform an Arctic Acrobatic Balance act with breath-taking contortions and extraordinary counter-balances.
Snow Queens Chariot: The Snow Queen propels her icy vessel ( tricycle platform ) through the blizzards she scatters around, as her two Ice Elves perform a breathtaking Acrobatic Balance routine on the front of her chariot.
Snowball Sprites: Two sparkling giant Snowball Sprites on wheels, whizz speedily round and round in a flurry of excitement as the first snow falls for Winter. They are completely rotund as if wrapped inside a huge glittering snowball but too impossibly short to be human. They dance mischievously with the audience throwing handfuls of blizzard as they spin around.
Mother Christmas Sleigh: A traditional Mother Christmas inspired by the Arctic Circle story of Babushka The Present Giver, travels through the streets looking for the perfect reindeer to lead her sleigh on her annual journey of present giving. Her Sami (Lapp) elf, Sunna, picks out potential reindeer from the audience, harnesses them up and gives them a trial as they speed off jingling through the snow.
Light Gliders: The Light Gliders spin elegantly into view glowing like lanterns and whizzing around the audience full of mischief and grace. They light up a space with their choreographed colour changing lights, magically turning around the audience, dancing between them, a mixture of ballet dancer and sprite. The Light Gliders are tiny, only four feet high and audiences delight in spinning them round then letting them go to whizz off at speed. Perfect for evening events outdoor or inside, The Light Gliders are a wonderful addition to Christmas parades, parties and lights switch ons. They are very interactive and make a beautiful focal point for any event.
Standard Length of Performance:
Walkabout acts: 3 x 30 minutes or 2 x 45 minutes or 90 minutes meet and greet.
Testimonials:
"I just wanted to write and say how wonderful Circo at Buckingham Palace. You were definitely the stars of the pre-concert entertainment and featured in so many photos that you will be an integral part of many people's memories. Thanks so much for being so fantastic".
-BBC
"You know you've got the best when you've got Circo."
-Darlington Council.
"You girls are so funny!"
-Ruby Wax
"They were amazing! They went down really well and everyone loved them!"
- Frog Box Marketing
"What can I say - brilliant as always! My husband followed you all the way down the main street he was so entranced"!
- Oyster Festival
Private Clients include:
Her Majesty The Queen
HRH Prince Phillip
HRH Prince Charles
HRH Prince Andrew
Crown Prince of Saudi Arabia
Sir Elton John
Bill Wyman
Oppenheimer Family
Corporate clients include:
BBC
Boots PLC
Cancer Research UK
Citroen
Centreparcs
Harrods
Linde Lansing
Maclaren Forumla 1
M & S
Microsoft
Nissan
PWC
Pfizer
Rolls Royce PLC
Selfridges
Photos of Circo