The Two Wise Men – Comedy Characters | UK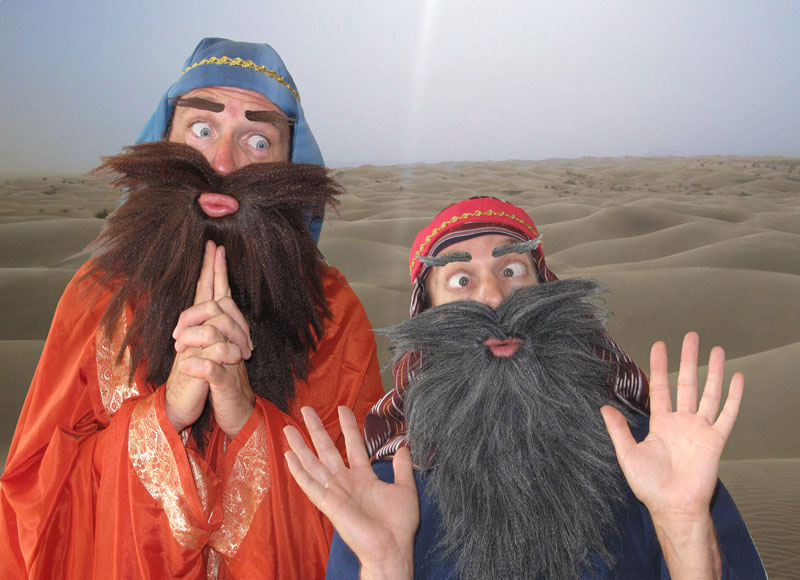 A collaboration of the minds of two very silly men who ought to know better! Putting on their costumes transforms them into the characters with hilarious results. They like to be as loud and ridiculous as possible so that they attract attention over large areas for their impromptu walkabout performances.
They will seize any opportunity to interact with people and draw them into their playful parodies! All themed characters combine carefully choreographed and rehearsed pieces and the always unexpected delights of improvising with whatever situations they may encounter.
"Walkabout theatre is not just putting on a costume and wandering around. It is about the way that the actors take on the role and how real or surreal they can make it! It is about playing with the people and surroundings ,then creating as bizarre, funny, and engaging a performance as you can by drawing people into your ridiculous farce! "
– Dave & Anton
The 2 Wisemen (Christmas act)
Having lost their wisest man to the world of TV quiz shows, the remaining two wise men have set it upon themselves to recruit a substitute third wise man. Are you wise enough to join them? It's never easy to pass the tough tests of wisdom that they set whilst at the same time laughing at the hilarious gags and ridiculous props that they are armed with.
The 2 wise men collar members of the public (male or female, young and old) and quiz them with a barrage of trick questions and bizarre brainteasers to see if they have what it takes to be a wise man. Fantastic costumes. massive beards of an almost pythonesque quality makes this walkabout act a real festive hit at any occasion.
Testimonials:
"Ridiculous and sublime"
–  Glastonbury Festival
"Completely mad! Completely brilliant!"
– Brighton Festival
"Absolutely hilarious! – A complete hit"
– Paramount Comedy Festival
Photos of The Two Wise Men