Zaz the Elf – Walkabout Character | UK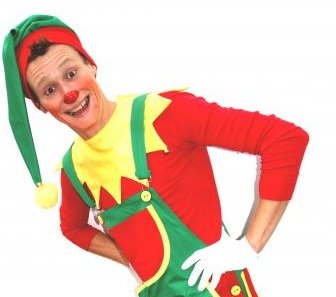 Zaz the Elf
Zaz the Elf offers several Christmas acts which are enjoyable and entertaining for both kids and adults!
Santa's coolest, funniest elf wanted to run away from the north pole to become a clown at the circus. He is available for children and family's Christmas parties, watch him ride bikes, spin balls and have a belly laugh! This comical and skilful elf meets all "Elf and Safety" standards!
Standard Length of Performance: 30 minutes – 1 hour sets throughout the day. For longer hours, various games can be incorporated into the performance.
Testimonials:
"I have had lots of very positive comments from guests and was very impressed myself.
– National History Museum
"Zaz has been employed by me for promotional work and has proved very successful in this field. I received many phone calls from people complementing him on his work and indeed, Booking tables!!"
– The Brassiere Eating House
"Thanks so much for entertaining the troops at my daughter's birthday. Zaz is a true Circus clown who is miles better than the usual "party circuit" clowns. I would highly recommend him to any parent looking to entertain a group of children. Interesting show, handled boisterous kids well, and he's very funny, the adults were laughing too. Small children find some clowns scary – not this one, he's great!"
– Private Client
Previous Clients Include:
Brighton and Hove FC
Specsavers
Bestival
Butlins Holidays
Pizza Express
Crystal Palace FC
Stoneham Park festival
S&M Cafe
City Bank
Photos of Zaz the Elf