Gravity Snow Globe Ice Pixies – Walkabout Act | UK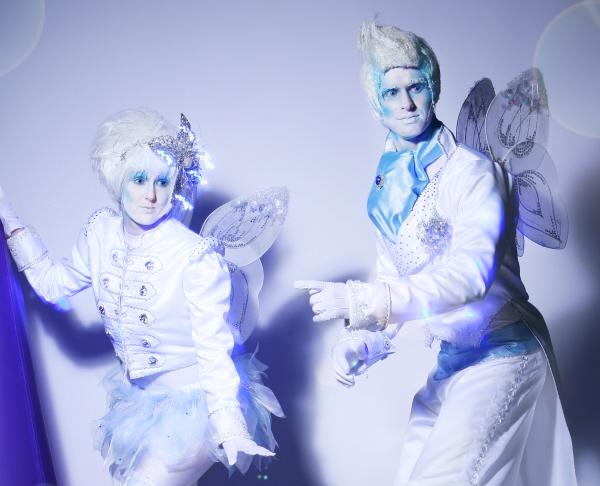 The Ice Pixie Snow Globes are fabulous and fun installations for any event. The Ice Pixies appear frozen in time within their beautiful snow filled two metre world, atop a light up colour changing musical base. Mischievous by nature, the Ice Pixies love nothing more than to surprise, and after many years of being frozen, curiosity often gets the better of them as they reach out and dance with their audience. At Christmas events, the music changes to fun traditional Christmas music. The Ice Pixies then interact with each other and perform simple routines.
When these beautiful Ice Pixie royalty thaw out, you will be dazzled by their ultra-bright twinkling light filled jackets and accessories, which are at their most beautiful out of daylight, albeit still very visible. Their finest attire is also adorned with Swarovski crystals and icicle gems. The Ice Pixies can also walk around your world in their globes, or even on stilts, so they can see far and wide bringing smiles and dancing along the way. The Ice Pixies can be at their most mischievous when skating around on their light up roller skates, spinning, dancing and all round good pixie fun.
At previous events, the Ice Pixies have surprised and delighted guests in their beautiful snow globes. They have then proceeded to mischievously skate around between courses in a Cirque Du Soleil style, silent but extremely interactive. They have also helped with awards, by collecting the lucky award winners from their seats to collect their acknowledgments.
The base is ideal for branding using static window stickers. The Snow Globe itself can also be branded in this way. The music in both snow globes is synchronised wirelessly. For Christmas events, a traditional Christmas playlist is played while the pixies perform fun routines. For other events, a magical twinkling playlist or anything at clients request can be played.
Options Available:
The Ice Pixies can perform in character or as statues in the globes. They can also perform walkabout in the globes. Outside of the globe they can perform stiltwalking, roller skating and even ice skating.
Technical Specification:
The snow globe is 3 metres tall, and 2 metres wide. The lighting is super bright twinkling led lights inlaid into the costumes. The snow globe base is bright and lit up. This can be colour changing or static with one colour. The snow globes include self-contained power, so they do not need to be near a plug socket.
Standard Length of Performance:
The Ice Pixies perform 3 x 30 minute sets.
Testimonials:
"I and the whole Royal Variety team would like to pass on our sincerest thanks to you for taking part in this year's show. It was lovely to meet you all; you were all such a pleasure to deal with over the weekend, you guys did an amazing job!"
- ITV
"Just a note to say thank you to you and all your team for all your hard work. The whole show was amazing from start to finish, and the party was a huge success so thank you very much."
- Propaganda
"Our guests were truly amazed to see you. Your costumes were magnificent, and I cannot express how grateful I am for doing such a magnificent job."
- Private Client
Previous Clients Include:
ITV
BBC
Toyota
MTV
Millers Vanguard
Bosch
Showstoppers Worldwide
Coventry City FC
Taylor Lynn Corporation
Leeds Law Society
Photos of Gravity Snow Globe Ice Pixies