Jack Frost – Juggler & Human Statue | UK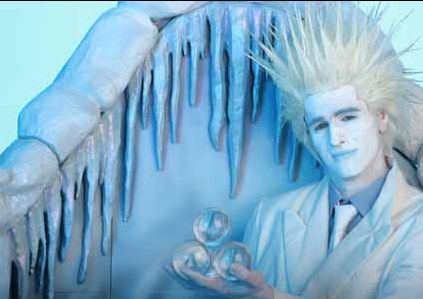 Jack Frost
Jack Frost's crystal ball manipulation is a charming and eccentric form of juggling, difficult to do but lovely to watch. This corporate entertainer works well for Christmas corporate parties. Jack Frost is a crystal ball manipulating, contact juggling and juggling living statue. If you want to book a great Christmas performer for your corporate event then call Contraband. Jack Frot has attended Christmas events all over the UK and abroad, and would make an impact at your event.
He is frozen into place but could thaw out at any moment – usually when people least expect it! He then displays his delightful and eccentric crystal ball manipulation skills. These are presented in his very own incongruous and engaging Jack Frost fashion.
The ice-cave podium is decorated to a high quality and can be installed within almost any event situation. Perfect for winter or ice themed events.
Crystal Ball Juggling
Up to eight crystal spheres can be seen in fluid motion around the contact juggler's body. The balls are rolled, skillfully balanced and deftly manipulated, creating patterns of synchronous beauty. The juggler rolls balls across their arms, balances them at specific points or flips them to new positions, seemingly against gravity. All the time the balls relate to each other, create geometric patterns together and maintain a harmony of movement – almost with a life of their own.
Standard Length of Performance:
Jack Frost usually does 3 x 30 minute sets but is flexible.
Testimonials:
"Totally professional entertainment"
– brightFX
"Rob's juggling was beautiful…really impressed guests as they arrived."
– Energy Marketing Group
"Rob, Jack Frost, was amazing – he was professional, easygoing, amazing skills and great with the children and adults alike."
– RSVP Now
"The evening was a huge success and Rob and Jason were truly brilliant. They both gave an outstanding performance and were truly amazing to watch and worked very well together. I felt they gave our event 110+% and could have asked no more from them, truly brilliant and certainly made my theme event the huge success that it has become."
– SN2R Ltd (via Contraband)
"Yes everything was fine, thank you so much for arranging. Jack Frost went down a storm."
– Wanstead Golf Club (via Contraband)
"The feedback has been great… Also, Rob was fantastic as Jack Frost yesterday – the event was really great…"
– Frogbox Marketing Ltd (via Contraband)
Previous Clients Include:
Harry Potter
Hitchhiker's Guide To The Galaxy
Tipping the Velvet
BBC
Energy Marketing Group
RSVP Now
brightFX
Photos of Jack Frost