Rugby Xtreme – Rugby Freestylers | Oxfordshire | South East | UK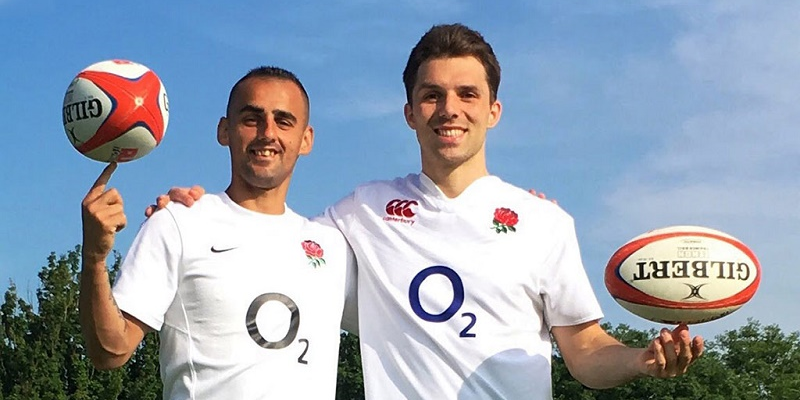 These amazing Rugby Extreme Freestylers' act involves Spinning, throwing, juggling and balancing rugby balls in some of the most mind-blowing creative ways imaginable. If you are putting on a sporting event, or would like to hire Rugby freestylers for your private or corporate event, we can't recommend these freestylers enough! They are available to hire for corporate parties, balls, product launch parties, film premieres, anniversaries and weddings.
They have been wowing crowds with incredible routines that develop from creative fun tricks up to unbelievable ball skills.
Standard Length Of Performance:
5-10 min sets with optional audience interaction.
Testimonials:
"The Rugby Freestylers were simply MIND BLOWING!"
– Twickenham Stadium
"We brought the Rugby Xtreme Freestylers in to mix and mingle with our audience and to put on a big show piece for our corporate awards event. The teams absolutely loved them!"
– WRG
Previous Clients Include:
Twickenham Stadium
WRG
Nickelodeon
JD
VW
Rugby Xtreme are Rugby Freestylers, based in Oxfordshire, perfect for bar mitzvah entertainment, bat mitzvah entertainment, international event entertainment, team building entertainment, sporting entertainment, festival entertainment, themed party entertainment, product launches, private parties, party entertainment, birthday party entertainment
Photos of Rugby Xtreme
Book Rugby Xtreme
Want to book a performer, or just find out more? Give us a call on +44 (0)208 8291140 or use our online contact form via the button below.