Reindeer for Christmas – Reindeer Hire | UK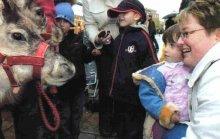 Reindeer for Christmas
Reindeer for Christmas is an established company that have been working with many kinds of animals for over 40 years. These real reindeers can be hired for corporate event, shopping centres, Santa's grottos and all types of Christmas events. We are an entertainment company that go the extra mile, to provide the best Christmas entertainment in the UK. Hire reindeers for your Christmas party and see how amazed your guest will be. Hiring real reindeers is a great way to bring your event to life.
The company also provides reindeer for film work, television commercials and theatre.
They are able to provide you with reindeer and sleigh, reindeer for static display and Father Christmas.
Reindeer for Christmas is a full member of ACTA (Animal Consultants and Trainers Association). All animals come with insurance, risk assessments, Defra Movement Orders, Health and Safety Documents and Static Hire Feeding instructions.  All trainers are Government Registered.
Standard Length of Hire:
Reindeer for Christmas are available for hire for periods of 1 day to 6 weeks.
Technical Requirements: 
Reindeer for Christmas provide transport to and from your venue. They provide straw bedding, shovel, broom, water buckets, hay and feed, and of course insurance. Heras fencing for the health and safety of the animals and visitors must be provided by the client. You will be required to provide crowd control fencing, double fenced, in some cases. A member of your staff will be required to clean out the enclosure, and feed and supply water to the reindeer twice a day. Also a competent member of your staff will need to make regular visits to the animals, to ensure their welfare during their stay. If they are to stay at your venue for any length of time, then a member of our staff will make regular visits to ensure all is well.
Testimonials:
 "On behalf of my Directors and myself a very special 'Thank you' for actually making this happen for us. The reindeer behaved superbly, they are such gentle creatures! Obviously they were very well trained, and certainly did you proud."
– Burleydam Garden Centre
"Once again the reindeer have been a great success. Please can we book a pair for next year?"
– Northwood Garden Centre
 "After the success of our Christmas festivities last year,  we would like to book you again for this year's event."
– King's Lynn Borough Council
 "Both the staff and the customers really enjoy the time spent with the reindeer. We feel that having the reindeer at the new store will also be a positive experience for them."
– Wheatcroft Garden Centre
Previous Clients Include:
Morrison's
Woolworths'
PC World
Jewsons
Hilldreds Shopping Centre,
Bayview Garden Centre
Lincoln Christmas Market
Rotherham Council
Norwich City Council
Kings Lynn Council
Nottingham Council
Kettering Borough Council
Staunton Harold
Asda Supermarket
Wheatcroft Garden Centre
Ashton Garden Centre
Skelton Garden Centre
Millbrooke Garden Company
Woodford Park Garden Centre
Townley Garden Centre
Bradley Nurseries
Ullesthorpe Garden Centre
Northwood Garden Centre
Henry Street Garden Centre
Center Parks
Nationwide Building Society
Photos of Reindeer for Christmas