Brendan – Mime Artist | UK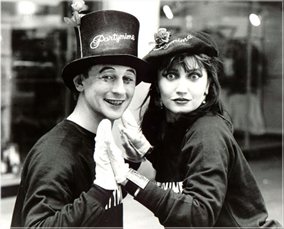 Brendan is one of Europe's most technical and artistically gifted mimes that has pioneered and celebrated physical theatre in Great Britain. He is renowned for creating, performing and inspiring the mime and statue companies that work in the corporate market.
Brendan is a multi-faceted artist who has worked extensively in all theatrical fields: this includes film, video, television, opera, stage musicals and street theatre festivals. He has also appeared in a multitude of television commercials and corporate events.
His work as a Choreographer encompasses such diversity as co-ordinating Ape movement on the film "TARZAN AND THE LOST CITY" (Greystoke II), to Britains first interactive installation: a collaborative contemporary dance multimedia production at one of Londons premiere arts venues, Subterannia.
Brendan has trained in Dance and Choreography; Classical Mime; Commedia Dellarte; Puppetry and Gymnastics – all of which are reflected in his performances and directing.
He is a founder member of the British Association of Choreographers and a member of the Equity Choreographers Committee. Companies he has directed include the robotic group "Man Machine", the "Beau Geste Clown Company", "Mimbots" and the inventive Mime/Dance Cabaret Act "The Mimetics". He also formed The Company of Cranks to explore experimental theatre.
Film and television credits include: Vanity Fair; Vera Drake; Santa Claus the Movie; Tarzan and the Lost City; The Wind in the Willows; The Paul Daniels Magic Show; Hale and Pace; Smith and Jones; plus Stanley Baxter and Lenny Henry Xmas specials.
Brendans unique combination of skills has proven invaluable in the world of Musical Theatre and Pantomime. He has appeared in many shows including: Babes in the Wood; Peter Pan and Dick Whittington as the highly acclaimed "Cat" with "Cannon and Ball".
Standard Length of Performance:
Brendan performs 3 x 45 minute sets.
Testimonials:
"The event went really well....The acts were great and really added to the ambience."
- Redrok Experiential Ltd (via Contraband)
"....Brendan was fab too!!..."
- Askham Byran College Student Union (via Contraband)
"The acts all went down really well so can you please pass on a huge thank you. The mime and accordion player were fantastic....thanks so much again to everyone for making the party an absolute success!"
- Snapdragon Parties Ltd (via Contraband)
Previous Clients Include:
Coleens Real Women - ITV2
Big Brother 9
Photos of Brendan