Mime Artist: Andy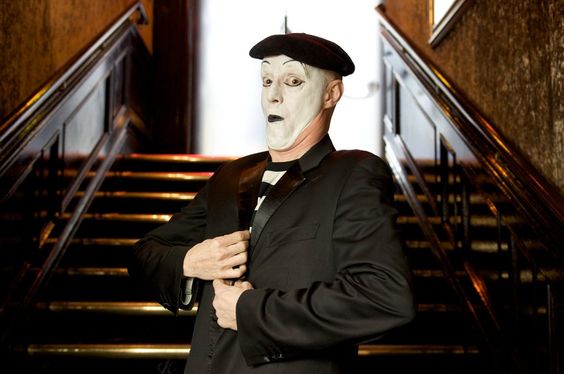 Andy is one of the most experienced mime artists working in film, television and corporate entertainment today. He has been acknowledged as one of the best technical mimes and mime robots working in corporate entertainment today.
Acts Available Include:
Pierrot:
Pierrot is a classic character, who has a history which dates back to the seventeenth century and "commedia del arte". Graceful and slow moving yet has a sense of fun and play.
Nebular One:
A high tech visual image of an extremely highly technical robot. Polished elegant black and now with the latest technology. With an on board CCTV camera and a TV monitor implanted in the chest not to mention a new electronic voice and sound effects, this makes Nebular One a must for any futuristic event or corporate situation.
Nebular:
A charming formally dressed robot, immaculately presented. Nebular will welcome your guests, discreetly flirt and entertain with wit.
The Mime:
Andy is not only one of the top technical mimes in England; he also adds entertainment skill to this genre. Beautifully presented, technically perfect and off the wall, this is white face at its quirkiest.
Eduardo:
Eduardo is a speaking mime (?!) though it is only his family back home in a small European country that no one has ever heard of, that can ever understand him. The character of Eduardo is drawn from many different areas of theatre, from the historic Commedia del Arte to the modern day street clown. He is something slightly different and is ideal for many different themed events.
Les Hommes sans Noms:
Les Hommes sans Noms is ideal if you have a French themed event. They start the event as a French mime artist and juggler interacting with your guests as they arrive and later in the evening they perform a ten minute cabaret act telling the hilarious story of the most famous mime artist you have never heard of.
Stage Show:
Andy also performs a fantastic stage show which is a mixture of classic mime, contact juggling and hoop isolation. It can be performed by any of the mime characters and is ideal for circus and French themed events. The show can last 6, 11, or 14 minutes (The 6 minute version includes only mime and contact juggling).
Along side his work as a mime Andy is also skilled in contact juggling. This makes him a versatile and spectacular performer, perfect to impress guests at any event.
Standard Length of Performance: 2 x 30/40 minute walkabouts.
Testimonials:
"It was great having Andy here, it really gave an edge to the event and made it special. He worked very hard for us!"
-Cristina Riveiros, Oxford Castle Limited
"An extremely polished entertaining robot"
– The Standard
"…witty and inventive and always a big draw"
– The Standard
Previous Clients Include:
Volvo
BMW
The Queen
Dubai Royal Family
BBC
Harry Potter and the Half Blood Prince
28 Weeks Later
Sweeny Todd
Sky TV
The Richard & Judy Show
Children in need
Coca Cola
Giorgio Armani
Photos of Andy