World of Coco – Hula Hoopers | UK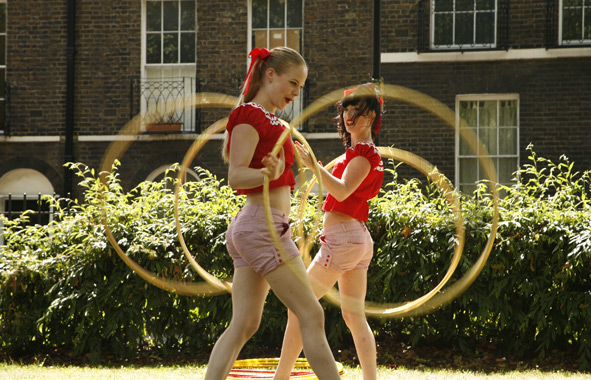 World of Coco
World of Coco was formed in 2003 with backgrounds in traditional and contemporary circus. They aim to provide captivating performance using a fusion of circus and theatre through a number of different performances, hula-hooping being just one!
Acts Available Include:
Princess Leia and the Rings of Saturn
Can Princess Leia escape from the evil clutches of the dark side? In this 7 min comedy hula hoop act Leia discovers her hidden talents for multi hoop spinning in her quest to defeat the dark Lord himself, Darth Vader.
An amusing and highly skilled interpretation of Star Wars with a specially designed soundtrack. Also available as a walkabout character.
Teach Me Tiger
Inspired by the era of the original invention of hula hoops, the 1950's. This act of highly skilled hoop manipulation is performed with panache in a 50's pin up style.
Also available as walkabout character.
1920's Circus Girl
The performer creates a whirl of fringes from her costumes and hoops as she wows audience members and passers by. Reminiscent of a decadent age gone by.
Available as an act or walkabout character.
The Hula Dollies
A fun and energetic duo hula hoop act!
The Showgirls
Circus, burlesque style! The Showgirls is a burlesque themed act in beautiful gold costumes and matching gold hoops!
Available as an act or walkabout characters.
Workshops
You can become a hula hoopin' hepcat! The girls have found that doing the hula is not only amazing fun, it's also fab for the abs! They provide the music, professional hoops and expert tuition, all you need to do is shake those hips, then you'll be laughing. You won't believe all the amazing tricks you can learn with a hula hoop.
Testimonials:
"The event went exceptionally well and the client was extremely pleased with the hula hooping. Apparently it drew a great deal of attention and generally went down a storm! They thought the act itself was amazing and the contortionist movements that were incorporated made it completely relevant as well as crowd-pleasing. Thank you again for all your help with this."
– Oneninety Communications
"The quality of performers was excellent and they were all very helpful and co-operative given the atrocious weather we had on occasion. Everyone turned up on time and were lovely."
– London Borough of Bromley (via Contraband)
"They were all brilliant, we had such fun with them, they fitted into the wonderful world of Hamleys so well!"
– Hamley's of London Ltd (via Contraband)
Previous Clients Include:
Glastonbury
Streets of Brighton
Traquair Fair
Bradford Markets Festival
Gevleugelde Stad
Metro Centre opening
National Museum of Film and Photography
Xscape
Eureka
The Square Chapel Arts Centre
Circus Ricardo's
Alhambra Theatre
Millennium Forum
Photos of World of Coco