Thomas – Contact Juggler | UK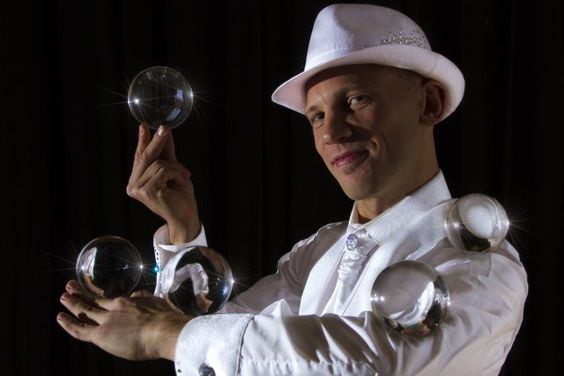 An exquisite display of crystal sphere manipulation performed in an engaging, captivating and gentlemanly manner. Thomas is a great corporate entertainer and presents a magical insight into the soothing and gravity-defying art of contact juggling. This is corporate entertainment at its very best!
The beautiful sight of a crystal sphere impossibly balancing on a fingertip or multiple spheres being manipulated into a pyramid that surreally floats, spins and flips is hard to believe, even when its happening right in front of your eyes.
With vast performing experience Thomas has nurtured the ability to maintain an audiences attention in an intimate setting, creating a hypnotic atmosphere where the extraordinary levels of dexterity and skills become an eye catching and entertaining act for all ages to enjoy.
This act is a guaranteed success for any kind of private event where meet & greet, roaming and table entertainment is sought after. For larger spectacles contact juggling can also be presented in a music-choreographed stage routine that has been internationally showcased.
Standard Length of Performance:
3 x 20 minute sets of contact juggling or one 4 minute stage routine.
Testimonials:
"His performance was so fluent and calculated. Just amazing style and dancing! Thanks."
– Private Client
"The show he brought was a highlight at the festival and a definate crowd pleaser."
– Private Client
Previous Clients Include:
Dubai Atlantis Hotel
EJC Fire Gala Show
Burning Man
Union Square
Poi Week
Paralympics Closing Ceremony
Bornfire
Flaming Nights
KFF
Street Parade
Zipps
Uber Events
Flow Festival
Winner JFF 2008
Pink October Hockey Games
Photos of Thomas