Theatre Of Magic Pinball – Pinball Machine |Berkshire| South East| UK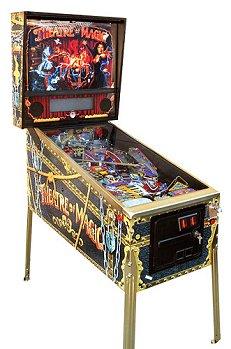 Theatre Of Magic Pinball
Probably the most feature packed pinball ever made. At first glance this machine looks fantastic, which gets better when you start playing and find all of the hidden features. Balls stop, balls jump up, trap doors open. Fantastic voice commentary by the magician and his assistant. It features dot matrix display and full auto diagnostics. Great multiball feature but also has simple ramp shots for the novice.
Technical Specification:
Width: 84844375cm
Depth: 140cm
Height: 193cm
Power: 500w
Min. Door Width: 84844375cm

Quantity: 1
Photos of Theatre Of Magic Pinball
Book Theatre Of Magic Pinball
Want to book a performer, or just find out more? Give us a call on +44 (0)208 8291140 or use our online contact form via the button below.