The Void – Juggler | UK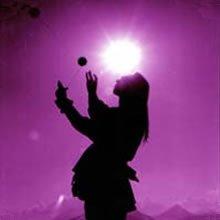 Armed with bright pink props and a sense of fun, The Void presents a technically high skill level of juggling tricks mixed with equal measures of daftness and bemusement at the weirdness of the everyday. The public are brought in on the act too, whether it be having a go with a swiftly de-pocketed skill toy, helping out with a hat trick, or becoming an essential element in the Five Ball Vanish routine.
The Void has been juggling for 12 years, and no-ones going to stop him now. Due to a certain degree of indecision, he has spent this time in developing his skills in a bewildering array of toys including balls, clubs, knives, diabolo, hats, yo-yo, devil stick, shaker cups, stilts, hacky sack, plates, cigar boxes, fire and luminescent props all bow down to The Voids dominion.
Literally hundreds of people have had their lives enriched by learning to juggle at one of Voids workshops. In fact, the next time you see a juggler busking on the street, it could well be his fault (He would like to take this opportunity to apologise). He was also a major player in The Great Yo-yo Explosion of 98, causing havoc and black eyes amidst myriad children (no apology), and later went on to a storming victory to become British Yo-yo Champion. (The fame! The adulation! The plaudits!….. Where are they all?).
The Void also wears out many shoes as a walkabout entertainer, drawing gasps of amazement from passers-by ("whys he doing that?"), and sometimes they even throw money at him (pity can be an overwhelming compulsion).
Applause, smiles, heckles and laughter all figure in one of The Voids shows; sometimes amongst the audience too. Book him for your event, precisely because he doesnt take himself seriously!
Standard Length of Performance: 3 x 45 minutes sets
Testimonials:
"Thank you so much for supporting our Walk Ten event at Stourhead on Saturday. The void was a great addition to the event and really wowed the walkers with his juggling skills! Again thank you so much for your support and please do pass on my thanks to The Void on helping Walk Ten be such a success."
– Marie Curie Cancer Care
"The Void was a very good compère, he knew when was a good time for a story or joke, but also knew when was not, for example, do not try to tell jokes after a knockout comedy act."
– IJDb
"Thank you very much for coming along to our Summer Fayre and entertaining with your circus skills. It was just the sort of attraction we were looking for, and helped to make the fayre a great success."
– Cannon Lane School
"Chiltern Railways passengers enjoyed a fantastic performance from yo-yo champion and renowned entertainer The Void at London Marylebone train station last week."
– Chiltern Railways
"The compère was hilarious."
– Birmingham Circus Convention
"We think youre great, and we want to book you for next year!"
– Hale Carnival
"Thanks to The Void who did an utterly amazing shaker cups routine."
– BJC
"The Void rocks!"
– Jon Udry, British Young Juggler Of The Year
"…always up for doing stuff, a complete loon and an absolute joy to watch."
– Luke Burrage
Previous Clients Include:
O2
Amstrad
Ford
Marks & Spenser
Pret A Manger
Virgin
Lloyds TSB
Poole Tourism
Waterstones
Circomedia
Hampshire County Arts
Ipswich Central
British Juggling Convention
Lansdown Cabaret
Spanish Yo-yo Congress
Volkovtsi Cossacks
Que Pasa
Southern Railway
Arcadia Housing
Fujitsu
Photos of The Void