The Hoods – Swing Band | UK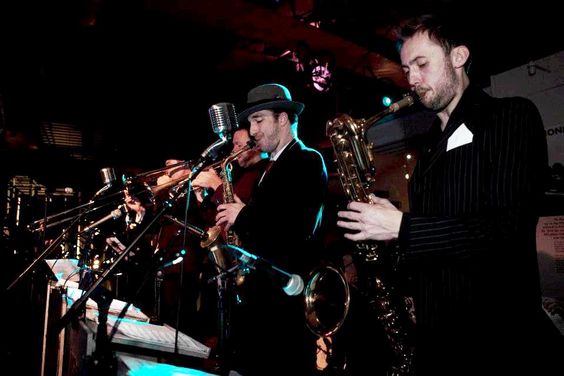 Forged in Northern gin-joints and speakeasies in early 2001, The Hoods are purveyors of highly-refined vintage Gangster Swing. They have played at a number of prestigious venues and corporate events, as well as private functions all over the world. They are ideal for 1930s, 1940s and 1950s themed events and will have your guests dancing from the moment they begin playing!
Musically, The Hoods serve up a heady cocktail of styles and genres, from high-octane jump-jazz, through hip-shaking swing, to finger-poppin' rhythm and blues, all with a dash of Latin thrown in for good measure. Prepare to be propelled in spirals across the dance floor by the pounding jungle drums before you sway to the sultry rhythms of mambo and calypso, then soothe your breathless soul with the sensitive balladry of a softly-crooned love-song.
Much of their inspiration and playlist is drawn from the golden Hollywood era of the 1930s-50s and features old favourites from artists such as Louis Prima, Benny Goodman, Cab Calloway, Frank Sinatra, Dean Martin, Nat King Cole, and Ray Charles, as well as original compositions and rock and pop reinterpretations, all delivered in the Hoods own hard-swingin' style.
The band itself consists of nine highly-accomplished musicians, the majority of whom have trained in prestigious institutions such as the Royal Academy, Guildhall, and the Leeds College of Music before embarking on their own successful professional music careers. The last decade has seen the band go from strength to strength, playing a multitude of different venues and events across the UK, from high society balls in Knightsbridge and Kensington to variety evenings in northern social clubs.
Standard Length of Performance:
The band usually play 2 x 45 minute sets but this is flexible.
Testimonials:
"You guys were totally and utterly brilliant last night. You absolutely made the night! You are entertaining, sooooo tight, all damn hot musicians, and your set was enormous fun. Everyone needs to know about you!"
– Scion Films
"I was sooooo thrilled with you and the band last night – you are a unique, slick, damn hot band – Loved working with you all – really – so professional etc.. x and easy on the eye to boot!!"
– The Tassel Club
Previous Clients Include:
The Omerta Group
The Science Museum
Kensington
The Wardrobe
The Savoy Hotel
The Pigalle Club
Piccadilly Circus
Photos of The Hoods