Sister Ruth – Comedy Performer | UK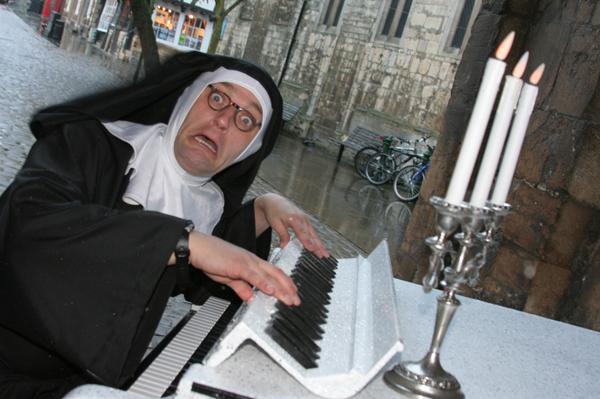 Ruth and the amazing magical mobile piano!
An extravagantly decorated baby grand piano built onto an electrically powered vehicle. This is driven around by Sister Ruth, a madcap nun who can stop and entertain any group of people using comedy patter, hilarious dance moves, facial contortions, sound effects and unusual renditions of all your favourite songs. Visually stunning, funny enough to bring tears and once witnessed never forgotten! Shes nuntastic!
Suitable for all outdoor events and indoor too access permitting. For Chrsitmas ask about Musical Ruth goes Jingle Jangle!
Testimonials:
"Thank you so much for coming to our annual carnival again this year. Your appearance is clearly one of the highlights of the day. In my advancing, grumpy years, there are not many things that nowadays make me "belly laugh" - you are the exception. The insane antics of your alter ego have young and old alike in hysterics. I dont think anyone could fail to enjoy themselves when you are around. I have received many comments from individuals and groups confirming that you are the funniest man they have seen for a long time."
- West Bletchley Council
"I just wanted to thank you for such a great day, Matthew. It was such a tremendous performance and brought laughter to thousands of shoppers. See you again next year."
- Eastgate Shopping Centre
"You might like to know that you were talk of the town, people were coming up to me and asking if I had seen you or asking "Where is Musical Ruth?" So Matthew, well done and thanks again. Well certainly keep your contact on file and so hope to do business with you again."
- Leicestershire District Council
Previous Clients Include:
Nokia
Guinness
Warwick Castle
Street Diversions
Brighton Festival
Arts Fresco Market Harborough
The Grand National at Aintree Racecourse
Photos of Sister Ruth