Ruby – Electric String Quartet | UK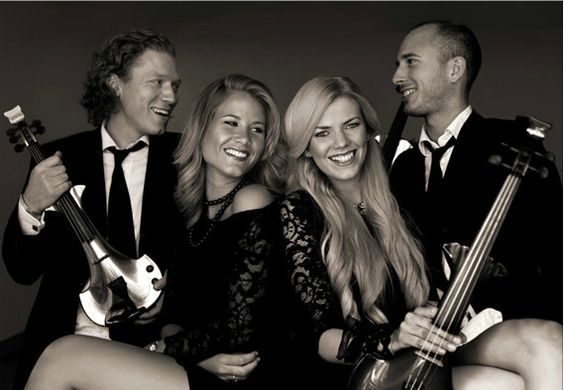 An exhilarating show, Ruby will electrify any event. A totally unique mixed-gender quartet, watch the on-stage chemistry fizz as Ruby wow your guests with a hit parade of contemporary pop and modern classics, rising to a crescendo with some epic rock arrangements. Ruby truly have something for every audience, showcasing stylish fashion, dynamism and energetic virtuosity, all played on their state-of-the-art electric string instruments. Ruby play acoustic and electric sets.
Gaining their music degrees at the top London colleges, Ruby's members have a wealth of experience performing for the corporate and record industry.
Options Available Include:
20-30min show set of well-known contemporary pop (with backing tracks)
20-30min show set of classical/rock crossover (with backing tracks)
20-30min show set of chill-out classical (with backing tracks)
Up to 3 hours background light-classics, jazz, show tunes and pop on acoustic/ electric instruments.
20 min Pop Set:
Ruby (Kaiser Chiefs/Kylie)
Toxic (Britney Spears/Michael Jackson)
Moby (Porcelain/Ibiza Chillout)
Bond (Live and Let Die)
Summer (Vivaldi)
I feel good (James Brown/Stevie Wonder)
20 min Rock Set:
Supermassive (Muse)
Matrix Theme
The A-Team Theme
Zadok (Handel/Green Day)
Led Bach (Bach/Led Zeppellin)
20 min Classical Set:
Air on a G String (Bach)
Canon (Pachelbel)
Eine Kleine Nachtmusik (Mozart)
New for 2011:
Hip-hop medley (Jay Z, Kanye West, Beyonce)
Robot Mash-up (Dizzee Rascal, Daft Punk)
Bollywood medley (Jai Ho, A R Rahman, Buddha Bar)
Palladio (Bond/Jenkins/Escala)
Ruby can also present up to 3 hours of background light classical/jazz/musicals/pop music arrangements on electric or acoustic instruments. All to backing tracks.
Testimonials:
"Ruby were absolutely brilliant."
– Cancer Research UK
"High-impact music which really sets the scene, wowing the audience members with their spectacular performance."
– Drive Productions ltd
Previous Clients Include:
Microsoft Christmas Parties
International Red Cross
McClaren F1 Silverstone Party
Paul Potts UK Tour
McFly UK Tour
Duffy UK Tour
Cancer Research UK
Vodafone
Virgin Atlantic
Hurlingham Club
World Golf Awards
Royal Bank of Scotland
Swan Hellenic and Saga Cruises
The Superyachts
Newmarket Racecourse
Photos of Ruby