RJD2 – DJ | Famous Musician | UK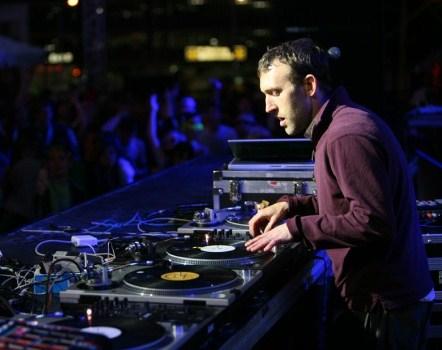 RJD2
RJD2 is available to book for a variety of events -we work in direct association with RJD2's representative as his preferred booking agent.
Overview
RJD2 catapulted to legend status in the electro-hip-hop genre after the release of his now cult album Dead Ringers in 2002. But he's a hard man to pin down musically, and whilst known for his expert use of sampling in his records, he has moved more towards the use of live instrumentals in his mixes and more complex arrangements & production that transcends genre distinction.
About RJD2
It's 2007, and as usual, popular music finds itself stagnant. A cadre of important records slated to change the game forever join queue alongside a frequently replenished fresh faced roster of newcomers poised to champion new sounds and take their spoils. Purists in each camp decry the newcomers, citing the respective death of each genre and yearning for the days of yore, when records were judged by their innate qualities alone and not the amount of blog buzz garnered on the hot new band of the day. What's to be done about the current state of things? Don't ask RJ. He's been in the basement.
Before delving into "The Third Hand," it's important to note the many accolades attached to RJD2. Catapulted to notoriety, fame, and uber-serious hip-hop credibility with 2002's Dead Ringer LP, 30-year-old Philadelphia resident and multi-instrumentalist RJD2 has enjoyed a thoroughly prolific career, following that debut album with 2004's critically acclaimed Since We Last Spoke. In the last year alone, RJD2 produced records for his group Soul Position and Aceyalone, wrote scores for video games and DVDs, in addition to various remixes for artists such as Astrud Gilberto.
For The Third Hand, RJD2 seemingly abandons all the notions and titles that have been placed upon him over the past six years. Underground hip-hop super-producer to many, virtuoso sample-based instrumental wizard to some, RJD2 embodies all of these things on "The Third Hand" but placates none who seek more of the same. Recorded, performed, arranged, and produced entirely himself in his basement studio, RJD2 commands his trusty MPC 2000XL sampler/sequencer alongside a pantheon of analogue synths, electric pianos and guitars, not to mention his own voice. Most notably, live instruments come in to play – RJ adds another dimension to his music, no longer satisfied with recording directly off of a sampler.
The result is a cohesive pop album in the most classic sense, a sound more akin to Phoenix than, say, Prefuse 84844375. In essence, this is RJD2's entrance into the pantheon of enigmatic songwriter/producers (see Jon Brion, Brian Wilson, Stevie Wonder) capable of creating a record so full of rich song writing, complex arrangement, and clever production that they transcend genre distinction and warrant an intent listen every time. The current state of music? As long as RJD2 keeps refining the sound of today with records like The Third Hand, we should be just fine.
Contact us today to book RJD2 for your special event.
Photos of RJD2
Book RJD2
Want to book a performer, or just find out more? Give us a call on +44 (0)208 8291140 or use our online contact form via the button below.