Ring A Roses – Flower Garland Workshop | UK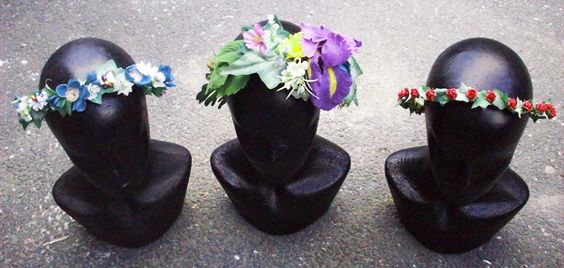 Ring A Roses is an all-inclusive mobile craft workshop where we teach people to make their own flower garlands (floral headdresses). They are more than just a craft workshop, what they offer is a tailored experience. From the initial fitting, where you watch a length of willow being expertly twisted into your base ring which is then precisely fitted to your head. You then walk into their unique workspace which is full to the rafters of flowers, beads, feathers, ribbons, bells and butterflies.
Their staff will give a comprehensive, interactive demonstration of the necessary techniques and use of the tools and equipment. You are then handed your own basket to gather flowers in and told you can use whatever you like to create your own bespoke headdress. Your basket will quickly fill up with treasure as you wander round rummaging in baskets, looking through bead boxes and pigeonholes. It takes anywhere between 30 minutes and 3 hours to make your headband, depending on how involved you become. Their staff are always on hand to offer advice and assistance.
Technical Specification:
Ring A Roses will need an area measuring 7m x 10m for the yurt. For indoor events, all they require is an area to set up their tables and furniture, size dependent on the number of guests. They bring everything they need with them, and they dont need any power so setting up in the middle of a field is easy. For morning events, the yurt needs to be erected the day before.
The Yurt:
The yurt is not necessary for all events, especially indoor events. The yurt is not included in the cost, and is added as an extra if needed.
Standard Length of Performance:
Ring A Roses can be hired for up to 8 hours a day.
Testimonials:
"Ring A Roses is an excellent, wonderfully taught workshop. Emma and Phil are both excellent teachers, and show great skill and patience in teaching to all ages in this fun, hands-on workshop."
- Green Gathering
"This workshop ticks all the boxes, it looks really good, and everyone wants to have a go."
- Conwy Council
"Its one of the most absorbing, peaceful, lovely ways to spend a festival afternoon. Seeing everyone wearing them really adds to the festival vibe!"
- Glastonbury Festival
Previous Clients Include:
Glastonbury Festival
The Big Chill
Secret Garden Party
Electric Picnic
Green Gathering
Wilderness Festival
Woodfest Wales
Malpas Yesteryear Rally
Shambala Festival
Conwy Council
Photos of Ring A Roses