Polly – Burlesque Performer | UK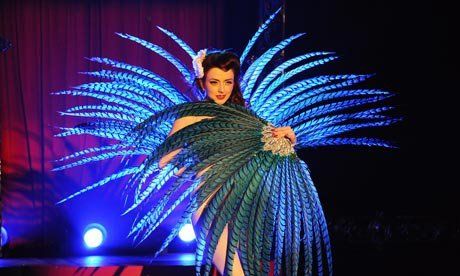 Polly blends traditions of old burlesque combined with bawdy cabaret, fashion and modern day popular culture. As well as performing exquisite sensual burlesque dance and striptease, she is unique among her peers as a talented vocalist. Dubbed "the Dita von Teese that sings" she has established herself as an independent burlesque soloist and vocalist with a very unique style.
Polly performs seductive re-arrangements of classic pop songs by the likes of Madonna and Michael Jackson as well as saucy renditions of songs by old favourites such as Julie London and Peggy Lee. All is performed with a big personality full of wit and charm.
Not one to mess around, over the past 4 years she has taken her show 'The Hurly Burly Show' from a small stage cabaret in Soho to the heart of London's West End and is now collaborating with some of the best in the business including celebrated creative director William Baker, who is best known for his work with Kylie Minogue. Polly has worked internationally, all over Europe and the U.S. She has performed for luxury brands such as Agent Provocateur, Roberto Cavalli and fine jewellery brand Boucheron, has appeared in Kasabian's "Where Did All the Love Go?" music video and was the face of the No 1 Eidos computer game 'Battlestations Pacific' as a wartime sweetheart.
Standard Length of Performance:
5, 12 or 15 minute solo performance. The Hurly Burly show can last 10 or 20 minutes.
Previous Clients Include:
Agent Provocateur
Boucheron Fine Jewellery
Roberto Cavalli
Sony
Eidos Entertainment
Kerrang!
ASOS
Mr. Brains
What Katie Did
Photos of Polly