Paul – Rat Pack Performer | UK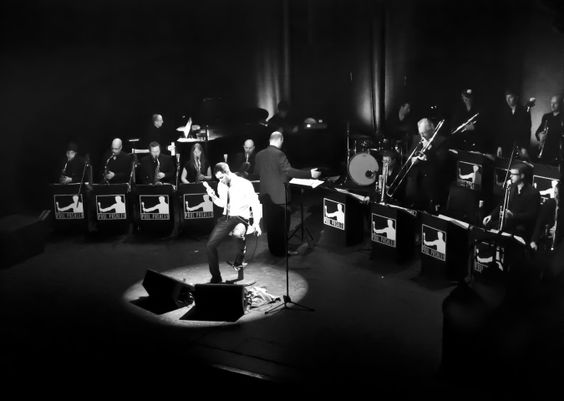 Paul possesses a distinct quality that never goes un-noticed, wherever witnessed – whether it be in one of the UK's top theatre venues (performing in 3 different shows alongside a live band) or in a small intimate function room, Paul consistently receives high critical accolade.
From great jazz standards to modern day charts, what makes Paul so unique is that his voice is so distinctive and clear – every word can be heard as he effortlessly drifts from deep Sinatra tones to lighter notes. During his sets, with a live band or simply solo, he has the unique ability to make some of the greatest songs ever recorded his own, capturing the audience and taking them wherever he feels.
He is undoubtedly a major new raw talent to emerge from the UK, that will surely soon be unearthed! Having obtained a BA in performance and extensive vocal coaching from tutors, he already has a wealth of diverse experience behind him, including a co-writing collaboration with a pan-pipe musician, circus training and training as an actor. From this Paul continues to grow, and he has written a lot of his own material which he puts in to his performances.
Repertoire Includes:
My First, My Last, My Everything
Rollercoaster
Ruby
I predict A Riot
Angels
Ring Of Fire
Dowaddidy
Spirit In The Sky
Somebody Told Me
Clocks
Modern Way
Save Tonight
Aint No Sunshine
Sail Away
Copacobanna
Just Cant Get Enough
Babylon
Fields Of Gold
Music to Watch Girls go Bye
Cant Take My Eyes off Of You
Everything – Buble
Lost – Buble
Sweet Caroline – Neil Diamond
Home Buble
World On A String
Under My Skin
Come Fly With Me
Mr Bojangles
From Russia With love
Born Free
Portrait Of my Love
A Foggy Day
Sway
Crazy Little thing Called Love
My Way
Fever
I Love Paris
Luck be A Lady
Softly As I Leave You
The Impossible dream
Pennies From Heaven
Straighten up And Fly right
Mack the Knife
Beyond the Sea
As long as I'm singing
New York, New York
Recipe for Love
We Are In Love
It Had To Be you
All The Way
King Of The Road
Thats Amore
Everybody Loves Somebody
That's Life
Testimonials:
"This is a young talent to watch, he should go far"
– BBC Radio 2
"Fantastic talent!"
– Manchester United
"Paul looks like a young man that could really hit the mark, with the looks and vocal ability to back it up"
– The Stage
"After half an hour of eating too much buffet food and drinking too many of the sickly red cocktails a different singer came over the speakers – a male soloist. Must be a CD I thought, whilst the girl takes a break. Really liked the CD too – some good swing songs with a great big band sound – was it Sinatra? No, not Sinatra. Couldnt place the singer, then happened to glance over to the staging area and saw a young, smartly dressed guy singing into a microphone. "My god, is that guy actually singing live?" I exclaimed to my colleagues. "No, he must be miming" one of them replied. Yes, I thought, theres no way a sound like that could come out of that guys mouth. But my curiosity got the better of me, and on moving closer to the staging area, I could see that yes, in fact this guy was indeed singing live. I have to tell you, the voice was magnificent – all I could think whilst standing there was "why isnt this guy famous?" When you look at the standard of some of the singers in our charts and on programmes like X-Factor, I have to tell you sincerely, this guy beats the lot, by a mile… Paul is a star – if you havent heard of him yet, if theres any justice in this world, youll hear of him soon enough. A class act."
– Private Client
"The party was a brilliant success. Paul was superb – a number of people thought it was a continuation of my playlist on the ipod at first! He was great- just set the perfect mood, sublime singing and charming too."
– Private Client (via Contraband)
Previous Clients Include:
Barry Dickens
Harvey Goldsmith
Manchester Opera House
Nottingham Concert Hall
Beck Theatre Hayes (The Kings Of Swing)
Deansgate Hilton Manchester
Photos of Paul