North London Big Band – Jazz Band | London | UK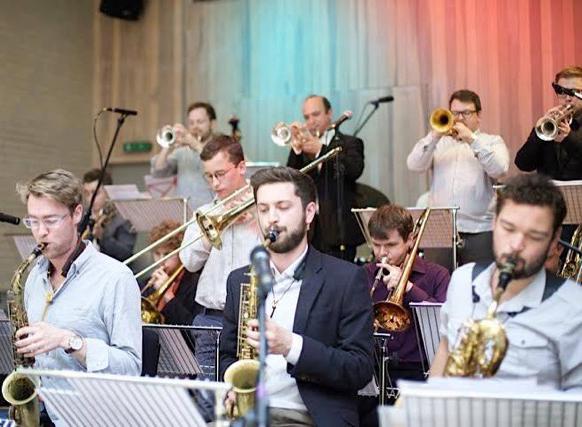 The North London Big Band
The North London Big Band features musicians from a large pool of London based professional musicians. The band's members have studied at a range of prominent music schools including the Royal Academy of Music, The Guildhall School of Music, the University of North Texas, the University of Miami, Paris Conservatoire and Amsterdam Conservatoire. They are available to hire for corporate parties, balls, product launch parties, film premieres, anniversaries and weddings. These corporate entertainers will leave your guests amazed with their exceptional musical talent.
Many of the musicians currently work on the West End and can also be heard playing with the BBC Big Band, Syd Lawrence Orchestra, Metropole Orchestra, Ronnie Scott's Big Band, WDR Big Band, Jamie Cullum, Gregory Porter and Tony Bennett to name but a few.
The North London Big Band performs a wide range big band repertoire. This includes music the libraries of Count Basie, Thad Jones, Buddy Rich, Stan Kenton, Glenn Miller, Frank Sinatra and Michael Buble, from which the band takes the majority of its repertoire.
Standard Length Of Performance:
2 x 1 hour sets, 3 x 40 min sets
Testimonials:
"A truly unexpected treat! We know what we like, and one thing we like is a powerful orchestra. The last time we experienced a big band was in the cafe of the late lamented Willesden Library Centre. We cherished that experience and were shattered when the cafe closed. The sound of the brilliant North London Big Band with all the brass and percussion transported us to Count Basie, Chicago, New Orleans and the greats of the jazz era. Had a great time!"
– Kilburn Herald
Previous Clients Include:
Private wedding for James O'Keefe
Various jazz clubs around London
Repertoire:
Count Basie
Thad Jones
Buddy Rich
Stan Kenton
Glenn Miller
Frank Sinatra
Michael Buble
Photos of The North London Big Band
Book The North London Big Band
Want to book a performer, or just find out more? Give us a call on +44 (0)208 8291140 or use our online contact form via the button below.