The Mirror Man – Human Statue & Walkabout Character | London | UK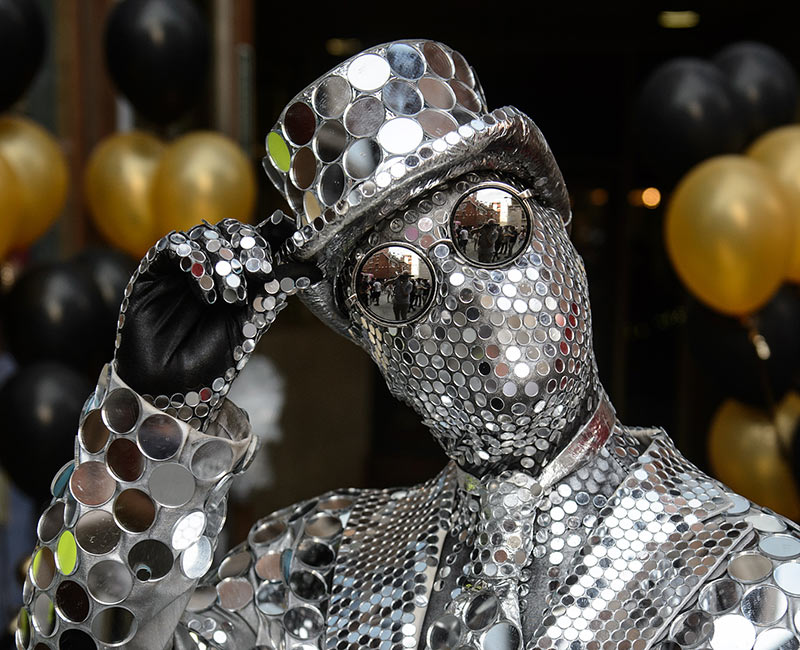 The Mirror Man
The Mirror Man has over 6,000 mirrors attached to him and he takes on an almost invisible quality as he reflects whatever surroundings he is in. The Mirror Man is a living statue but due to the nature of his reflective qualities, his suit becomes highly animated with even the smallest change of perspective.
The Mirror Man comes with a rotating podium that literally turns him into a human Mirror Ball. He also has colour changing L.E.D lights that can be hired with him. He is startling in sunlight and mesmerizingly beautiful in artificial light.
The Mirror Man is the epitome of ambient corporate entertainment, something that will wow your guests and provide a real talking point without being too obtrusive. He is perfect for a drinks reception, would be sublime at a day at the races and would create an amazing spectacle at a corporate events, festivals, weddings and Christmas lights switching on ceremony. Envision him as a romantic centre point at a wedding reception, as scintillating eye candy at a product launch, in fact any place where you really want to draw attention to something.
The Mirror Man looks great in photographs but he truly has to be seen to be believed, to that end I have created a video to demonstrate some of his potential in different environments. I hope you enjoy the video and that it gives you some glimpse into the possibilities of this amazing new character.
Standard Length of Performance:
3 x 30 minute sets.
Photos of The Mirror Man
Book The Mirror Man
Want to book a performer, or just find out more? Give us a call on +44 (0)208 8291140 or use our online contact form via the button below.