Melody Domain – Bossa Nova Band | UK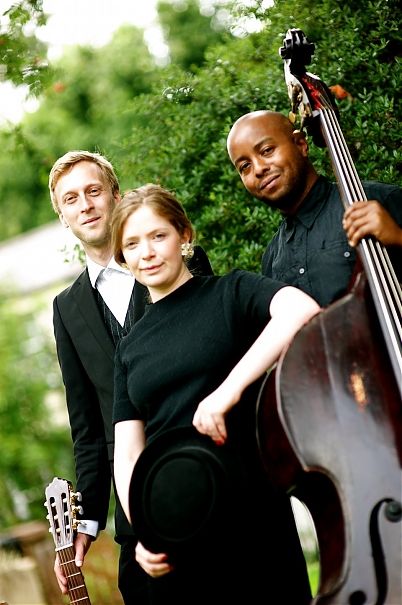 Melody Domain are a London based folksy bossa-nova duo/trio. They present their unique take on well-known songs from the Fifties to the Noughties. Sarah's honey-sweet vocals and David's nylon-string guitar provide the core sound of the band (amplified using a 60W AER compact PA); typically accompanied by a double-bass player.
The Line Up
The band's members are all accomplished performers. Vocalist Sarah comes from a Theatre Dramatics background and is involved in promoting visual art and music gigs in and around Dalston, as well as creating her own brand of delicate folk-pop. David has played session guitar for Corinne Bailey Rae, Martina Topley-Bird (Massive Attack) and now works with Perrier Vocalist award winner Julia Biel. The Jazz bass player is a graduate of the Guildhall School of Music.
Performance Time:
The band perform 3 x 45 minute sets.
Technical Requirements:
1) For a background music setup the band uses two amplifiers.
AER 60W amp for both guitar & vocal. Single output: balanced XLR or 1/4″ jack
TC electronic RH450 bass amp head 450W with 200W speaker. Output: balanced XLR or 1/4″ jack
2) For a large scale event they would require DI's for the two guitar amps which would serve as monitors to those instruments. Vocal would be direct into the desk (using the band's sm58 mic) with a vocal monitor (& mic strand) provided by the PA sound engineer. On these events they don't provide their own DI boxes.
Testimonials:
"Melody Domain were great, thanks! I asked them to up the tempo for their second set which they did brilliantly and so we were very happy indeed."
– The Financial Times
"Melody Domain were professional, prompt and everybody enjoyed their set. All I can say is, they were fantastic and would not hesitate to use them again! The kids especially enjoyed their music and never stopped dancing."
– Private Client
"Melody Domain were fantastic! Thank you so much for a brilliant recommendation. Our MD, was extremely impressed with the performance and it suited the evening perfectly."
– John Lewis
"They were great, perfect for the style of event.  We had very positive feedback about them & the event in general, so can't ask for more!"
– Outer Sanctum (via Contraband)
"The band were great again and added a great atmosphere to the evening."
– John Lewis Plc (via Contraband)
"Everyone that I have asked has been really complimentary and said Melody Domain were great! Good mix of music that went well with the occasion and venue. Thank you to you and them. We hope they enjoyed playing for us."
– Private Client (via Contraband)
"All went really well and the band was so lovely to work with and did accommodate all our little changes on site. I think they were perfect for the occasion and thank you very much for recommending them."
– Event Concept Ltd (via Contraband)
"We were really pleased with Melody Domain. Everyone thought they were the right type of music for the pre dinner drinks and our MD said to me that he really liked them."
– Protiviti (via Contraband)
"We loved Melody Domain and had excellent feedback from our guests too. Thank you again."
– Private Client (via Contraband)
"It all went great thank you. They were lovely, arrived on time and the guests were very pleased. Please pass on our thanks."
– Quintessentially Events Ltd (via Contraband)
"They played at our store event on Friday and created such a fantastic atmosphere, our guests were enchanted by their music. The band were just lovely, they arrived on time and were so friendly they event let a customer play along with them!!"
– John Lewis Plc (via Contraband)
"The evening has been deemed a huge success so yes please do pass on my thanks to everyone for their part in that. The performance went down really well and worked fantastically in the space. The guys singing set the drinks off to a great start as well, sadly there was less of an audience for the later part but I was still listening! I hope everyone enjoyed being there as well. Thank you again."
– Investec Bank Plc (via Contraband)
"The event went really well thanks. The DJ, band and ice cream girls were all fabulous. I hope they enjoyed working at the event….Thanks for the great recommendations and I look forward to working with you again."
– CME Operations Ltd (via Contraband)
"Thank you for all your help in the lead up to our event. Contraband has been a very smooth and easy-going option for us. We were very pleased with both Melody Domain and Maxine….Band: Lead singer had an amazing voice, and lots of guests commented on it. My boss was very happy with these two choices and she looks forward to working with them in the future."
– Wardman Communications (via Contraband)
"Yes it all went really well…They were really well received. Thank you for all your help."
– C&C Alpha Group (via Contraband)
"Melody Domain were great, a really lovely mix that complemented our other act in the room. The event even surprised us, what we thought would be a room about half filled turned out to be bursting at the seams, everyone loved the supper club area and the acts therein. The guys were all very professional and understanding when we needed to change their performance times during the event itself. They perfectly fit the bill so please do pass on my thanks to all three. Would love to work with them again should the opportunity arise."
– George P Johnson UK Ltd (via Contraband)
Trio Repertoire Includes:
Abracadabra – Steve Miller Band
Sweet Dreams – Eurythmics
Back To Black – Amy Winehouse
Ain't No Sunshine – Bill Withers
The Book Of Right On – Joanna Newsome
All Of Me – Billie Holiday
Baby Love – The Supremes
Message In a Bottle – The Police
May You Never – John Martyn
White Christmas – Bing Crosby
Can't Get You Out Of My Head – Kylie
Corcovado – Jobim
Fever – Peggy Lee
In a Manner of Speaking – Nouvelle Vague
In The Pines – Leadbelly
Light My Fire – The Doors / Shirley Bassey
Get Lucky – Daft Punk
Love Letters – Elvis
Love Me Or Leave Me – Nina Simone
Michelle – Beatles
May You Never Never – John Martyn
Moon River – Andy Williams
My Baby Just Cares For Me – Nina Simone
The Girl From Ipanema – Jobim
The House Of The Rising Sun – The Animals
Valerie – Amy Winehouse / Zutons
Dream A Little Dream – Mamas & Papas
Let's Stay Together – Al Green
I'll Be Your Baby Tonight – Bob Dylan
My Moon My Man – Feist
Every Breathe You Take – The Police
Guns of Brixton – Nouvelle Vague / The Clash
Summertime – Gershwin
Greenbud –Sarah Johns
Waiting In Vain – Bob Marley
Those Were The Days – Mary Hopkin
Crazy – Patsy Cline
Going to the Chapel of Love – Dixie Cups
Golden Brown – The Stranglers
Jolene – Dolly Parton
In the Summertime – Mungo Jerry
A Case of You – Joni Mitchell
Cry Me a River – Ella Fitzgerald
I Wish it could be Christmas Everyday
Last Christmas – Wham
All I Want For Christmas is You –Mariah Carey
Mommy's Kissing Santa Claus
Photos of Melody Domain