Lucy – Children's Entertainer | Bristol | South West | UK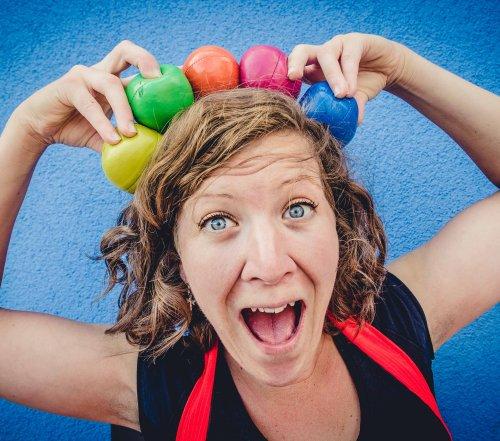 Lucy
Lucy is a fun and friendly female children's entertainer who specialises in circus, magic, puppetry, balloon modelling and of course keeping children and their parents happy. Lucy is driven by her passion to entertain and loves to wear fabulous colourful costumes whenever possible. This corporate entertainer can also perform at corporate family fun days as well as private events.

Lucy's magic shows are bursting with all sorts of tricks, games, balloons, comedy, circus and puppets. With special moments of interaction this show is unique and modern, bringing out the superstars in everyone. All she needs now is an audience.
With over 12 years of experience working all over the UK and abroad, Lucy is both professional and committed to making any event the best it can be. With her high skill level and unique approach to entertaining, Lucy can engage and entertain all ages young and old.

This is an entertainer not to be missed. The only thing left for you to do is sit back and take the weight off their feet and let Lucy take all that stress away. Lucy can offer the perfect package for any party or event.

Skills Include:

Magic shows
Balloon art
Juggling (fire, knives, hats, L.E.D)
Stilt-walking
Ventriloquism/puppetry
Circus skills
Balloon modelling workshops
Story-telling
Techincal Specification:
Lucy Magic Shows
· Minimum of 8x8 meters floor space, stage if possible
· Clear space in front of performer
· 2 meters overhead
· Amp, music and mic can be supplied by artist

Walk about Stilt-walking characters – Duration 3 x 45 minute
· Secure place for costume change
· Secure lock-up for equipment
· In the event of rain, a dry, indoor place will be provided by client on day of event
· A table or area where I can mount onto the stilts away from public view. Ideally on the ground floor to enable easy access to event.
Balloon Twisting – Duration 3 x 45 minute
· Secure place for costume change
· In the event of rain, a dry, indoor place will be provided by client on day of event
Balloon workshops for twisted people – Maximum of 25 people per group
· Indoor area, minimum of 8 x 8 meters
· Tables and chairs if available
· Amp and music to be supplied by performer

Circus Skills Workshops
· Minimum of 10 x 10 meters
· Indoor or outdoor area, flat ground
· Fenced or cordoned off area preferred
· Secure lock-up for equipment
· Indoor space in the event of rain

Standard Length of Performance:

Lucy performs a range of acts:

Magic show – 1 hour
Magic Show – 2 hours
Balloon Modeller – 3 x 45 minutes
Stilt – walker 3 x 45 minutes
Circus skills workshop – 1 hour
Balloon twisting workshop – 1 hour

Testimonials:

"Lucy was punctual and worked in excess of the hours she was booked for. Her act was varied and she interacted very well with the crowd. A very professional entertainer that we have booked again and would definitely recommend."
– Trowbridge Shopping Centre

"Lucy entertained my 5 year old daughter and around 20 of her school friends in July. The children were enthralled, engaged, excited and laughed their socks off for the full 45 minutes. Lucy was a definite quality act!"
– Private Client

"Lucy did what we had asked and more. Dressed as an elf on stilts she walked into the village centre giving out leaflets, then spent the afternoon balloon modelling, she was polite, patient and charming and I would recommend her to anyone. We are booking her again for our next function."
– Armsthorpe Parish

"Lucy entertained 25 2 – 5 year olds yesterday for my 4 year olds birthday party. The children were absolutely enraptured and had so much fun, enjoying all aspects of the entertainment. Lucy was great, really organised and very professional. I would definitely recommend her."
– Private Client

"Lucy was a great asset to our Christmas Lights Switch On, was happy to join in the fun – and proved a huge hit with everyone. We'd book her for another event without hesitation."
– Cosham County Council

"Lucy Lost-it ran a balloon hat making workshop at Farmfestival this year. She was a pleasure to work with and was happy to muck in with whatever needed doing. I will be booking Lucy again very soon as she is one of the most professional people I have worked with. I highly recommend her."
– FarmFest 2013

"They closed down Oxford street to traffic for the day and Lucy was there creating wonderful balloons! She is a captivating performer, Children and adults love her, it is a rare thing indeed to be able to entertain children and the waiting parents in equal measure, she held her own in a busy environment and worked brilliantly creating a fun atmosphere, I would recommend her wholeheartedly."
– Private Client

Previous Clients Include:

Sheffield Children's Hospital
House of Frazer
Mc Alpine
Thompson Holidays
Funderworld
Kiddiecare
Circomedia
Woodstock
Production Suite
Horseworld
Camp Magic
Cosham City Council
Oxford Pegasus Theatre
Durham Street festival
Derby Fest
Margam Orangery
Just So Festival
Greenman Festival
Photos of Lucy
Book Lucy
Want to book a performer, or just find out more? Give us a call on +44 (0)208 8291140 or use our online contact form via the button below.