Loz Because| Cabaret Hula Hoop Show | UK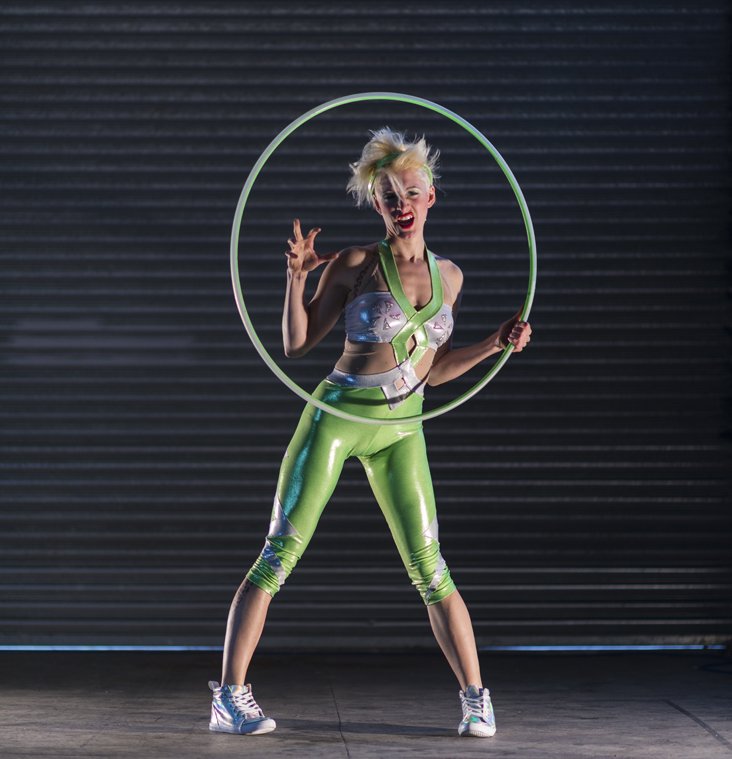 Loz will light up the room! Loz Because's hula hooping is beautiful, astonishing and captivating. Loz is a trained dancer and brilliant hula hooper. Versatility is one of Loz's strong points. Loz has a range of acts from 1920 swing-dance style, to comedy cabaret, take a look:
Lindy Hoop Hulahoop Routine:
Lindy Hoop is a high energy, fun and stylish piece to a specially mixed Electro-Swing track – Electro-swing hula-hoop! Choreographed with authentic swing dance moves from world-class dancers in Melbourne, Australia. The act culminates to a 50-hoop finale with shiny silver hoops.This act is 5 minutes long.
B'Coz Comedy Cabaret Show:
The B'Coz Comedy Cabaret show can be 5 to 15 mintues long, or Loz can be your Compere or Mistress of Ceremonies for the evening.
The 5 minute show contains a mixture of comic banter with the audience, bombastic hip-hop hoop dancing with a hula hoop or 4, Also featuring a nauseating lime green velour tracksuit… which comes off whilst hula hooping!
The full 15 minute show culminates with the help of two audience volunteers as Loz climbs atop them to simultaneously spin hoops whilst fire-eating!
For venues with no fire licence, Loz performs 5 hoops atop the two volunteers.
Testimonials:
"Loz was fantastic! A crowd-pleaser as usual."
–The Social Club Cabaret
"Loz's act was a huge hit with the audience combining great hooping skills with a huge amount of charisma!"
–Cirque Bijou
"Wow! Loz was spot-on once again! She really has that certain something on stage – you can't take your eyes off her!"
– Flaming Fun Entertainment Agency
"Her incredible skill and endless witty banter had everyone enthralled. Simply stunning."
– Simon Chainey, Festival Director
Previous Clients Include:
SkyFest
British Juggling Convention Gala show
Bristol's Harbourside Festival Circus Stage
Olympic Torch Relay 2012
FlameOz Street Theatre Fesitval tour, Canada
Amman Festival, Jordan
Diesel
Mercedes
Bristol Hippodrome
Christmas Spiegeltent, Bristol
Bloomsbury Big Top, London
Southern Lights Arts Festival
Bath Bedlam Fair
Social Club Cabaret
Creative Commons Circus Festival
Photos of Loz Because Cabaret