Jive Aces – Jive & Swing Band | UK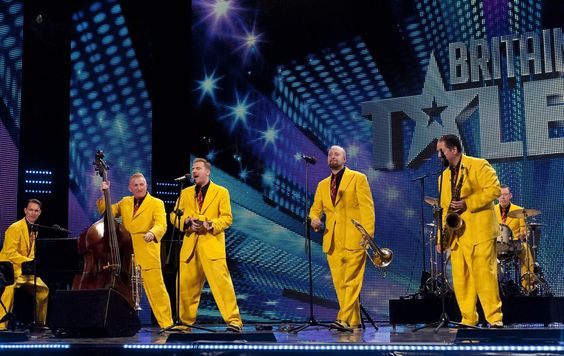 The Jive Aces are the UK's top Jive & Swing band. Together for over 10 years, this extremely popular six piece group have performed at thousands of festivals, theatres and dancehalls throughout the UK and all over the world. The Jive Aces are renowned for their high energy Jump Jive music (the exciting sound where Swing meets Rock 'n' Roll) and spectacular stage show. They also got to the semi finals of Britain's Got Talent 2012.
They combine a mixture of fresh arrangements of swing/Jive/R&B classics – songs made famous by such greats as Louis Prima, Cab Calloway, Bobby Darin, Louis Armstrong, Frank Sinatra, Big Joe Turner and Sammy Davis Jnr- along with a selection of superb swinging originals taken from their studio albums.
The Jive Aces have worked with many of the top names in the business, including John Travolta, Status Quo, Isaac Hayes, Van Morrison, Count Basie Orchestra, Keely Smith, Priscilla Presley, Buddy Greco, Kirstie Allie, Acker Bilk, Jack Dee, Tony Christie, Lee Evans and Juliette Lewis to name just a few.
The Jive Aces were the recipients of the prestigious "City of Derry International Music Award" for 2006, previous recipients being Van Morrison and Jools Holland. They also received in 2008 a special award from the Variety Club of Great Britain for their contributions to entertainment and charity.
Their singles, "White Hot Christmas" and "White Cliffs of Dover", have both entered the UK singles charts, with the latter reaching no 27 in the UK Independent Charts. The band has released six studio albums and one compilation on Right Recordings. Their latest "Recipe for Rhythm" features guest appearances from Chick Corea, Mark Isham, Mr Acker Bilk, Toni Elizabeth Prima and others and is produced by three-time Grammy award winner, Emmanuele Ruffinengo.
With their high energy music, bright stage suits, wild stage antics, irresistible humor and sheer professionalism, the Jive Aces will quickly get any audience on their feet – or dancing in their seat! Each and every show is guaranteed to go with a swing!
Standard Length of Performance:
Approximately 2 x 45 minute sets or 1 x 60 minute sets.
Testimonials:
"These professional young musicians came on cold to an early evening audience and were simply sensational. The Jive Aces manage great freshness yet maintain an authentic accurate sound. Full marks."
– The Stage
"Now back by popular demand for an incredible fourth consecutive year at Montreux Jazz Festival, their explosive live shows have become legendary"
– Montreux Jazz Festival
"I was extraordinarily impressed not just by the professionalism which you exuded on the night, but also by the willingness to work within the often very strange demands of television. I'm not sure if you have had the chance to see the result on television, but you looked and sounded great."
– BBC Children in Need
"Life Is a Game by The Jive Aces has the most important ingredients: It is musically brilliant, it is great to listen to, songwriting is exceptional, the arrangements of the covers are superb. The Jive Aces really are a band of very talented musicians. The album gives loads of joy and pleasure."
– Albums of the year, BBC Radio 2
"The night would not have been the same without the fantastic experience that was the Jive Aces. They rocked onto the stage in yellow suits and slicked back hair. In no time the hall was transformed into a jiving, cavorting, dance floor with everyone exhilarated by the entertaining physical stunts and extraordinary playing of the pianist. The night flew by and in no time we were wishing that the encores would go on till morning. They are truly wonderful performers. Not to be missed!"
– University College, Durham
"Opening up with The Jive Aces, the energy level quickly soars through the roof as the band starts stomping with some infectious, high-speed swing music that parallels the energy of 50's rock 'n' roll with all the silk and glamour of 40's swing. Truly modern, and making no claims otherwise, the band seems to be on a caffeine high as they shoot and dance around the notes with such clarity. I'll give it an A."
– In Music We Trust
"Thank you for your wonderful performance at the Royal Albert Hall. The Jive Aces were a pleasure to work with and I know you were a big hit."
– Royal Albert Hall
Previous Clients Include:
Queens Theatre
Prince of Wales Foundation
Ryder Cup
General Electric
Montreux Jazz Festival
Royal Festival Hall
Pigalle Club
Café de Paris
World Pony Carriage Championships
The Lord Mayor London's Spectacular
Montreux Jazz Festival
Lovebox Festival
The Royal Ballet's 50th Anniversary
North Sea Jazz Festival
World Swing Dance Championships
Grand Order of Water Rats Annual Ball
Society of Distinguished Songwriters Ladies Night
Vienne Jazz Festival
City of London Festival
The Ryder Cup
Cannes Film Festival
Cork Jazz Festival
Conservative Party Conference
Society of Distinguished Songwriters
HRH Prince Philip at The World Pony Carriage Championships.
CNN
ABC's "Good Morning Los Angeles"
Channel 4's "Holy Smoke"
BBC Radio 2's "Paul Jones Show"
DNA Stories
Wakey, Wakey Campers
JazzFM
Repertoire Includes:
Note: Due to the large number of songs in the Jive Aces repertoire, the set can be either dance or show oriented. The set is expanded all the time, but the following are the songs done most regularly.
Frequently played songs include:   
Accentuate the Positive
Ain't Misbehavin'
Ain't Nobody Here but us Chickens
All of Me
All the Cats Join In
Bare Necessities
Basin Street Blues
Beyond the Sea
Big Noise from Winnetka
Blue Moon
Boogie Woogie Country Girl
Bring Me Sunshine
Buona Serra
Caldonia
Chicken & the Hawk
Choo Choo Ch'Boogie
Fever
Flyin' Home
Fly me to the Moon
Get Me to the Church On Time
Hit the Road Jack
Hoots Mon
I Can't Give you Anything but Love
I'm Confessin'
In the Mood
It Don't Mean a Thing if it Ain't Got that Swing
I Wanna Be Like You
Jump, Jive & Wail
Just a Gigolo/I Ain't Got Nobody
Love Me or Leave Me
Mack the Knife
Mama Don't Allow
Mambo Italiano
Minnie the Moocher
My Baby Just Cares For Me
Oh, Babe!
Oh, Marie!
Over the Rainbow
Pennies From Heaven
Route 66
Saint Louis Blues
Shake, Rattle & Roll
Sing, Sing, Sing
Singing in the Rain
Sweet Georgia Brown
Summertime
Sunny Side of the Street
Sway
Swingin' All Day
Tonight You Belong to Me
Tuxedo Junction
Volare
We'll Meet Again
Well Alright, Okay, You Win
When the Saints Go Marching In
When You're Smiling
White Cliffs of Dover
Christmas Songs Include:
Jingle Bells
Let it Snow, Let it Snow, Let it Snow
Santa Claus is Coming to Town
White Christmas
Santa Baby
White Hot Christmas
Winter Wonderland
Photos of Jive Aces