Juggler & Contact Juggler: Jason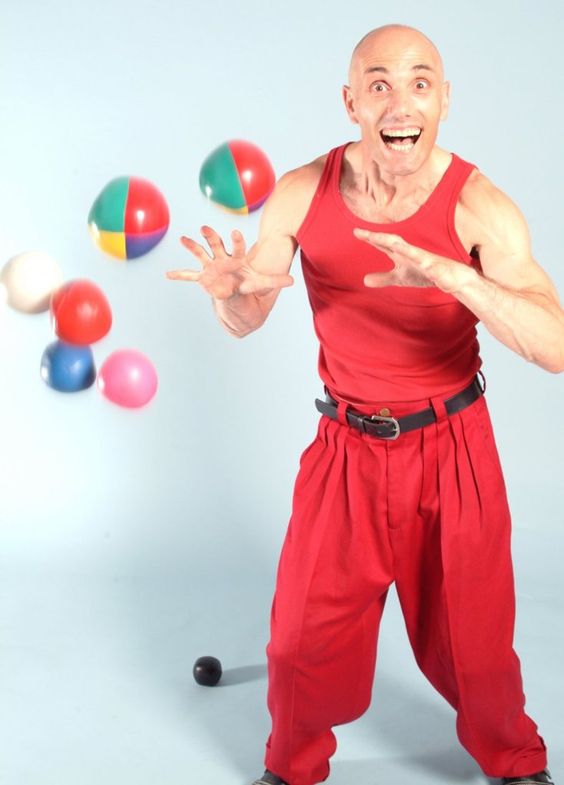 Jason is a multi skilled entertainer who has performed at private parties for Her Majesty the Queen and Madonna. He was voted Overall Winner of the prestigious Rotterdam International Street Theatre Competition and was a Television Presenter for Channel 5's 'Havakazoo'. He performs crystal ball manipulation, robotic dance, 5 ball juggling all in an amiable interactive style.
Acts Available Include:
The Ice People
Superb ice costumes, mesmerising crystal ball manipulation, slow motion movement, amiable interactive style and ambient music from body belts (optional). Ice men statues also available.
Ghoul
Jason now has a fantastic Halloween act named Ghoul. The Ghoul can have Halloween music being played from underneath the costume but this is optional.
Family Show
An award winning show featuring visual comedy, robotic dancing, skilfull crystal ball manipulation and possibly the worlds highest 5 ball juggling all with audience participation.
Standard Length of Performance:
Jason can perform sets of 2 x 45 minutes for evenings and 3 x 45 minutes for daytime events.
Testimonials:
"Both the juggler and face painter were really good; very professional and friendly and the customers loved it!"
– Lola Lo
"The Queen enjoyed herself immensely. Thank you so much for your wonderful work."
– Lady Elizabeth Anson
"That guy is ****ing brilliant"
– Jonathan Ross
"Jason was a great hit ..I would not hesitate to recommend him strongly and warmly"
– British Council, Oman
"Jason you were wonderful, everyone loved you."
– Friday Island Weddings
"Thank you the film looks great."
– CBBC
"Thank you for all your help and ingenuity. It was a pleasure working together."
– Polaroid
"Thank you..you were fabulous."
– Private Client
"You went down very well here..and I hear good things from Dubai as well."
– British Council for Abu Dhabi
"Jason, you were a hit as always. Congratulations on being such a success."
– Wells Healthcare
"As ever your performance went down brilliantly with the guests."
– Private Client
Jason you were superb, it was a privilege to watch you
– Joanna Lumley
Excellent mate, please come on the show                    
– Chris Evans
"The evening was a huge success and Rob and Jason were truly brilliant. They both gave an outstanding performance and were truly amazing to watch and worked very well together. I felt they gave our event 110+% and could have asked no more from them, truly brilliant and certainly made my theme event the huge success that it has become."
– SN2R Ltd (via Contraband)
"The acts were all great! We were on our trucking deck looking down when the torch arrived there was such as great turn out and it gave a real buzz to the town."
– First Investments Ltd (via Contraband)
"The performers were absolutely fantastic on Saturday, thank you so much for helping me arrange them for the night. They were fab!….Jason was also great, as always, he looked super smart!"
– MACS Charity (via Contraband)
"Really good event thank you, as usual your performers were great….Balloon Modeller and Jack Frost: Both popular and great with the customers…"
– First Investments Ltd (via Contraband)
Previous Clients Include:
CBBC
Westbury PLC
Polaroid
British Council for Abu Dhabi
British Council for Oman
Wells Healthcare
The Production Bureau
MTM
Photos of Jason